Rarefacció 5 (1/2): Florian T M Zeisig / Jasmine Guffond & ilan Katin / Eric Frye & Jung An Tagen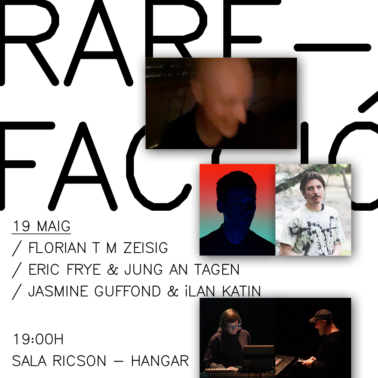 On May 19th, Hangar presents the fifth, double and final session of this year's edition of Rarefacció, a listening cycle curated by Sergi Botella that is part of the Audio Formal/Politics of Listening research line and aims to present proposals revolving around music and sound from an experimental and unconventional point of view. Guests for this first session are Florian T M Zeisig, Jasmine Guffond & ilan Katin and Eric Frye & Jung An Tagen.
Florian T M Zeisig / Jasmine Guffond & ilan Katin / Eric Frye & Jung An Tagen
Date: May 19th, 2023
Time: 7 pm
Venue: Sala Ricson, Hangar
Price: € 9 + drink
Tickets
Florian T M Zeisig
As an artist and producer he is interested in personal, inter-personal and real-life experiences that he weaves into sound-based frameworks. For Rarefacció, Florian T M Zeisig performs his work You Look So Serious – as a celebration of its 5th anniversary since original release and in conjunction with the upcoming new album You Look So Serious II (upcoming May 2023 as 2xLP via Enmossed/Industrial coast) The performance consists of live renditions from both volumes using tape loops from the original archives.
Jasmine Guffond & ilan katin
Jasmine Guffond is an artist and composer working at the interface of social, political and technical infrastructures. Her practice spans live performance, recording, sound installation and custom made browser plug-in. Through the sonification of data she addresses the potential for sound to engage with contemporary political questions. Recent projects employed digital technologies, sonification and the aesthetisation of data as a means of fostering discussion around contemporary surveillance technologies as well as producing experimental audio works. Interested in providing an audible presence for phenomena that usually lies beyond human perception, via the sonification of facial recognition algorithms, global networks or internet tracking cookies she questions what it means for our personal habits to be traceable, and for our identities, choices and personalities to be reduced to streams of data.
ilan katin is a visual artist working with drawings, installations and live video performances. His work with Jasmine Guffond compliments the performance through abstract and non-figurative forms, creating visual spaces that provide a narrative and visual identity for Jasmine's compositions. A creative symbiosis that transforms materiality.
Eric Frye & Jung An Tagen
Eric Frye is an American composer and visual artist. He is known for his solo performances and installations that explore the dissociative and psychoactive functions of sound and image.
Jung And Tagen is the pseudonym of Stefan Juster from Vienna, creator of audiovisual performances that conquer the viewer's perceptual apparatus and transport the audience into the presence of an immediate immensity.
The second part of this session will be at 11 pm at Sala Vol with Kentaro Terajima + Lanav.

Supported by: