3D Organic performance with Takashi Makino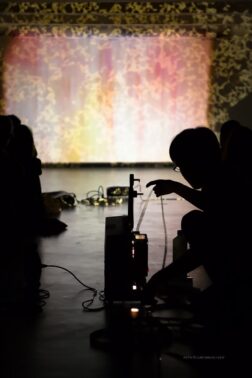 The Crater-lab residency project presents the 3D Organic performance workshop by Takashi Makino as part of the SPECTRAL activities. The activity consists of a double programme with the Japanese filmmaker Takashi Makino, one of the most influential and active visual artists on the international scene in the field of expanded and experimental cinema.
Makino will present two complementary activities in Barcelona: the first is a screening of several of his films and a performance of expanded cinema using digital image, 16mm image and live sound. The programme combines his best early works with his most recent ones, made during the pandemic, where it will be possible to see what has changed and what hasn't in Makino's expression.
As a complement to this session, Makino will also give the 3D Organic performance workshop, which aims to create organic 3D images using 16mm film footage and an analogue synthesiser, through learning and exploring the possibilities of the technique known as the Pulfrich effect.
The workshop will develop installation and performance projects using 100% analogue equipment, with the intention of exploring the physicality and materiality of the moving image, combining both visual and sound aspects. Abstract 3D images will be created that will protrude from the screen and generate all kinds of animations and movements.
All images will be created during the workshop on 16mm transparent celluloid.
At the end of the workshop, a collaborative piece will be created in which participants will work in different departments or teams: live sound/music, digital projection and editing, analogue projection, etc.
Practical information
Days: 13 and 14 May
Hora: from 10 am to 2 pm and from 4 to 7 pm
Venue: Sala Ricson, Hangar
Participants: limited to 12 people
Price: 50 €.
Registration by email to craterlaboratorio@gmail.com