Rarefacció: Janneke Van der Putten / Noish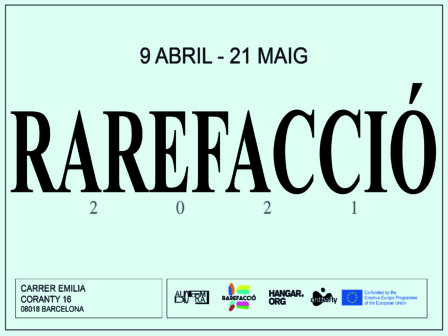 On April 23rd at 6 pm, Hangar presents the third session of Rarefacció, a cycle curated by Sergi Botella that aims to present proposals that revolve around music and sound from an experimental and unconventional perspective. The guests for this session are Janneke Van der Putten and Noish.
Janneke Van der Putten / Noish
Date: April 23, 2021
Time: 6 pm
Price: € 3 + tote bag as a gift
Rarefacció's audio will be available live at https://live.hangar.org/#rarefaccio
Janneke van der Putten is a vocalist and visual artist, with experience in textile design. In an intuitive and physical way, she explores her voice as a sound texture. She has specialized in extended vocal techniques, producing two or more sounds simultaneously: basic tones, harmonics, interferences – like glottic attacks – and spatial reflections. Van der Putten uses architecture as a natural sound amplifier and as a trigger for echoes or other sonic effects. Wandering in space makes the sound move and generates a dynamic listening experience. Her rhythmic and conceptual approach to singing is inspired by the cycles of the breath, the body, the earth and the cosmos. Her performances are often performed without electrical amplification. In this way, she focuses on the exploration of space itself: how it sounds, whether it is lit or not, and where the audience is located.
Van der Putten will perform Voice-Skin, a sound experience for voice and electroacoustics with compositions by Werner Durand (DE), Sajjra Xhrs Galarreta (PE) and Philemon Mukarno (NL / ID). Wearable sound system designed by Jesse Howard (US) & Arden Rzewnicki (US). Produced by Foundation Idraola, Rotterdam, 2019 – 2021. Supported by Performing Arts Fund NL, Prins Bernhard Cultuurfonds and Akademie Schloss Solitude.
Sound artist, independent researcher and programmer His practice could be understood as a knowledge device where art, science and technology hybridize and converge from an unorthodox and experimental approach. From the sound dimension, his pieces propose to encourage active listening and expand perception through the psychoacoustic experience of the phenomenon of the emergence of structures and patterns on the limits of chaos and order.
His works have been published in Free Software Series, Nyapster, Drone Records and Tecnonucleo, among other labels, and have been presented live throughout Europe and Latin America. Martin is also behind the streaming platform MetaminaFNR and is co-editor of Ursonate magazine, a publication dedicated to the Spanish experimental music and sound scene.
The event will be carried out following all security measures.
Attendance will be on a first-come, first-served basis.
Janneke van der Putten's performance is supported by: