Senzu beans. Interview with Tutu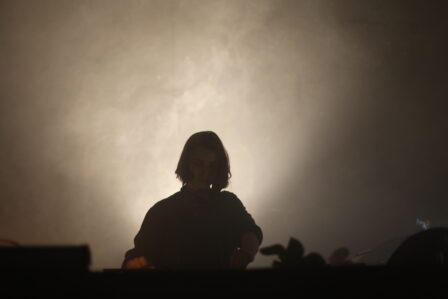 On the occasion of Rarefacció, the music and sound program of Audio Formal, Andrejs Vīksna interviews TUTU invited to the third session of the cycle.
There is a certain aura of mystery surrounding Gemma Planell Bartolomé, the DJ behind alias Tutu. She has been playing sets for many years now and you can find some of them on her SoundCloud profile. But apart from that she prefers to stay away form all the media buzz and let the music speak for her."The sessions of Tutu are odes to life, between pure adrenaline and the most genuine curiosity. Like windows that open to horizons both near and far, her sets run through the landscape with the same intensity that she lives other creative facets of her life". These two vague and poetic sentences are one of the very few scraps of information you cand find about her on the web. That is, until now, that she has agreed to conduct the following interview due to her live in Rarefacció.
ANDREJS VIKSNA. You are very careful when putting personal information about yourself on the web. It is unusual these days especially for a public figure like a DJ. What made you take this decision and what role does Internet play in your DJ practise?
TUTU. I don't feel like a public figure at all. Internet is a great tool to discover new stuff if you're driven by curiosity like me, but it's also easy to get lost in it. Internet can be inspiring, but sometimes it gets overwhelming.
A. V. In the only interview I found with you in English, you said that you have a passion for photography and it has influenced your work as a DJ. What are the things photography has brought to your DJing?
T. Some of my gigs and tracks are related to my photos. I take pictures and process them in the same way as I work with tracks. I focus on an idea, I capture it and then I play with layers, filters, loops, etc.
A. V. Do you see DJing more as a form of art or craft? Looking from my position DJing seems to be in this weird "no man's land" position between both of them. Years ago photography was in a similar position, but it has now been "accepted" as an art and a way of expression not just a craft or something that reflects the taste level of photographer.
T. DJing is a bit of both. On the technical side it's closer to a craft. But I feel DJing is related to art, because playing music implies saying something, it's a way to express yourself. I approach my sets the same way I approach my photos, tracks or drawings.
A. V. Since there are so few scraps of information about you on the internet I had to go to your Instagram account and there are so many pictures of nature! What role does nature play in your life and career? I am asking this because you frequently use field recordings in you mixes.
T. Walking and running in nature gets me closer to some sort of essence which is important for me. Nature makes me feel free and alive, it's what I call Senzu beans. I usually make my field recordings to document significant personal experiences in nature, and I often include these in my mixes and tracks.
A. V. I believe you see DJing as a form of storytelling. Do you have a story in mind when you start building a DJ set or does the story develop itself in the process? If we talk about DJing as storytelling: what are the topics you are interested in?
T. Some of my mixes have titles, that give some clues about this. Gynes, I'm fired up!, Fóvea, Senzu beans, Tsunami Gems, Run, From Home to Nature… are some of them.
A. V. How do you build a DJ set and transitions? Do you build it around a feeling or some songs that you have found etc.?
T. It's always about feeling and intensity. I use songs, sounds and field recordings as different layers to open the gate to feelings. I also focus on tempo and harmony, and then I decide whether to explore or break it.
A. V. Do you see audience as an active participant of your DJ performances? Do you leave a room for improvisation in your sets depending on how audience reacts, or do you always play the set you have planned before?
T. Yes, I see audience as a part of my performances, but I need to have my own process to get my message across. Then I can take some risks.
A. V. What are the things you like about DJing?
T. The same as in nature.
A. V. What makes a good DJ set?
T. The element of surprise and the ability to lift you up.