To put a hold on perfectionism. Interview with Jessica Ekomane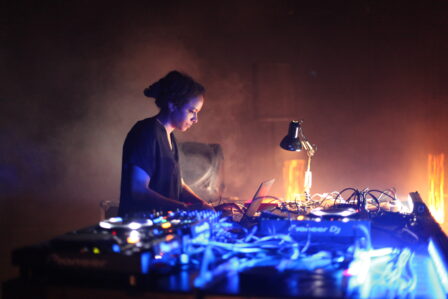 On the occasion of Rarefacció, the music and sound program of Audio Formal, Andrejs Vīksna interviews Jessica Ekomane, invited to the third session of the cycle.
Jessica Ekomane is an experimental sound artist who begins to work with sound once living in Berlin. Jessica settled in this city in order to study Art History, but the large and celebrated electronic music scene gave her the courage and the perfect environment to explore together with other people, her own musical talents.
 She has worked with numerous artistic projects, and she has been a resident of Berlin Community Radio. This year Jessica is one of the collaborators working on the installation for the German Pavillon at the Venice Art Biennale.
ANDREJS VIKSNA. Your webpage introduction says "Jessica Ekomane is a French-born and Berlin-based electronic musician and sound artist". What is the difference between an electronic musician and a sound artist and where do you see this border in your own creative work?
JESSICA EKOMANE. 
I consider sound art to not be restricted to the concert situation, as well as using «non-musical» elements in a way that doesn't necessarily imply a compositional act on my part. But really in the end what you understand as «music» can be quite subjective…
A. V. 

It seems that in your work you pay a lot of attention to the physical qualities of sound, the shape of it and try to explore the ways our perception of sound is influenced by space. How do you see these things connected and what made you interested in this topic?

J. E. I'm interested in humans and how sound can affect us physically, psychologically, and help us understand our failures, contradictions and the systems we put in place to organize and interact with each other. The space we inhabit is never neutral, but always defined by diverse socio-political parameters. This is where I feel that the combination of both sound and space becomes interesting.
A. V. 

One of the other topics that you work with is people's expectations of music. This interest rooted in your teenage years when you developed your musical taste in sort of a vacuum without people who had similar expectations of music? What are your expectations of music now, what are the qualities you are looking for in music?

J. E. Related to what I mentioned before, I think it's interesting to reflect about those expectations and what they can tell us about a bigger context. I guess this interest is rooted in both what matters to me as a human being and the researches I've done over the years. My practice naturally developed in this direction. My «expectations» of music are similar to what others who grew up in a similar geographical area as I did expect from music. I'm talking about a certain tuning you are used to, certain standardized progression of chords etc.
The qualities I'm looking for in music… I would say that I need to find it somehow strong enough for me to feel it before intellectualizing what I hear.
A. V. There are quite many self-taught electronic musicians, but you have studied sound academically. What are the gains from academic approach to music, what has it given to you?
J. E. 
I have to clarify that during my education I didn't have courses where I learned Max/Msp or composition for instance. So I feel I learned this by myself. I think the benefits of the academia are the facilities and equipment you can use, the people you meet there and end up working with, and the opportunities you would otherwise not encounter so easily. The possibility of receiving feedback and discussing your work is also important.
A. V. How important is the audience for you as an experimental musician? I have always felt that in experimental art the community of artists and professionals play a much bigger role than general audience. It can be hard for audience to appreciate the creative output of an artist, but the community, institutions create a sense of belonging and give possibilities for development.

J. E. I don't really have an overview of what my audience is. But I regularly have people coming to talk to me after my performances, and I feel as if my music is open enough for them to project themselves in it without needing to know about the discourse behind it. This is really important for me. I've definitely been lucky in the community of artists and professional supporting my practice, because this community has played an essential role and created a safe and free environment in which I could take risks and develop my practice.
A. V. Has your live performances influenced the way you think about music or make it?

J. E. Yes, definitely. From the moment I started making music myself and learned the craft, I started to think about music from listener's perspective. But I can also switch it off sometimes.
A. V. You are going to release an album this year. How is it coming together or is it already finished?
J. E. The pieces are finished, but we still need to work on the artwork and some other technical details. I'm looking forward to being able to share it.
A. V. How do you know when a piece of music or an album is finished?

J. E. This is an extremely difficult question for me. I think I still don't know! Sometimes you have to shift your perspective, put a hold on your perfectionism and accept that you can only capture a moment in time.
A. V. What have you learned from making the album? Do you see it as an end of some period in your creative work?

J. E. It actually should be a live recording of a specific project I worked on last year. But yes, I've definitely been concentrating on composing and playing live for a while, and finally documenting my work feels like looking back at what I've done so far before going forward. It's maybe not an end, but rather a new beginning.