Paratext #57 by Kenneth Dow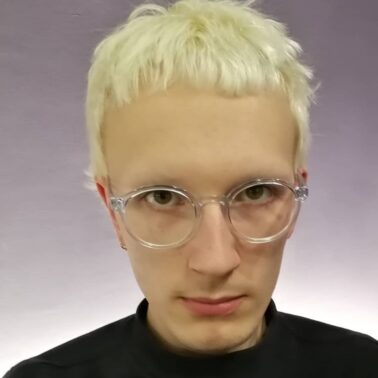 Paratext #57
October 29,2021
By Kenneth Dow
Featuring:
Katrin Anika Ströbel & Mohammed Laouli (Exchange grant Baden Württemberg – Catalunya)
Albert García-Alzórriz (Exchange grant Baden Württemberg – Catalunya)
Alba García i Allué (Exchange grant Baden Württemberg – Catalunya)
Mustafa Emin Büyükcoşkun (Exchange grant Baden Württemberg – Catalunya)
This edition of Paratext was dedicated to presenting the outcome of this year's eighth iteration of the Baden-Wuerttemberg – Catalunya exchange.This one was outstanding in quality of the works, the presentations and their thematic continuity.There was an understanding among the works and the modes of their narration, that tied the purposefully eclectic format of Paratext into a whole, that was more than the sum of its parts. People, who have seen this edition, might want to disagree with me.
I was ill that evening and had to confine myself.To be able to write this text, I was given an audio recording, I was able to relisten, stop, rewind and fastforward. My approach in the first weeks was both atomic and blind. Gradually, I received some of the material, the artists presented. Maybe this made me attentive to the formal appreciation of sound to convey stories, inherent in all works.
Katrin Stroebel and Mohammed Laouli, two of the visiting residents in Barcelona, used revolutionary songs as a backdrop to narrate modern experiences of displacement, migration and diaspora in the mediteranean area. A phenomenon, they were documenting in their work for the past eight years. The first song, written by a Czech composer, given lyrics by a German couple and later translated to Castellano by a Spanish Communist in exile in Paris where he shared a flat with the couple; the second, an Egyptian song popular in the entire Arabic left. The piece begins with the composer quoting the style of Al-Andalus as his inspiration. He goes on to tell the arrival of the Guitar and the castañuelas in Andalucia as a story of flight from tyranny. Both videos, thought to be part of a larger video installation, in white serif text on black backdrop, narrate female accounts, namely those of Martha and Hassanya.
Alba Garcia presented an audio piece about the emotional dimensions of displacement. Incoherence, in her words, existencial crises in the words of her psychologist. Before presenting the work itself, she shared the stories of the people she met during her stay in Stuttgart.
Hastily she ran down their biographies, highlighting the many gaps, things she forgot, things she was never told.The mode of speech conveyed a sense of fatalism, how things were bad, they might have gotten better but how we still ache and this will be here to stay. This only turned when the actual piece was played. A voice with audible German accent holds an inner monologue with their partner about finding their hair in their own. A trove that triggers memories, a longing for closeness, through possession if needed.
Mustafa Emin Büyükcoşkun, visiting resident in Barcelona, was the only artist who did not show a newly produced work, since his residency had just begun. His piece starts with a recording of a tv popular science documentary. Immediately the voiceover breaks the fourth wall by demanding the background music to be more technical. This perspective further shifts, when the same voice, notably aged, comments on the video's genesis from the present.
The documentary, Images From Past Future, produced with Rayna Teneva draws parallels between the artists petition to enter the archive of the former Karlsruhe Nuclear Safety Research facility, and their process of immigration. Both being a petition for access, an effort of translation, of presenting credentials.
The artist duo presents itself as visual artists working in digitalizing the archive of the research becoming more and more personally involved in what was captured there.
Carefully they contextualize the accounts of the creator of the popular science documentaries about the reactor safety research produced in the 80's. They compare to other places these modes of storytelling have been employed. Notably as propaganda drivers for (authoritan) regimes.
The producer, introduced as the conveyor of facts about the making of these videos, becomes more and more unreliable, when, as the film continues, Büyükcoşkun and Teneva themselves begin to comment in voice overs. This culminates when they introduce an unnamed historian to talk about the nazi history of the facility's management.
"Not many, but the majority in the upper management" were having a past of holding top tier positions in arms research and production. In these positions they "… slaved and disposed tens of thousands of detainees in concentration camps"; Their history was not not simply forgotten after 45, but they were hired explicitly for these management qualities.
Albert Garcia-Alzorriz work begins with a voice over explaining the trajectory of two brain pacemaker electrodes, placed to improve the life of a patient suffering from parkinson disease.
Machine noises and heavy drone sounds set the mood into a dreamy piece exploring practices Stuttgart's largest hospital.
Most themes are mediated through screens. Through immediate screen captures, shoulder views of a person viewing a screen, endoscopic captures of key hole operations. The work shows care givers, never acting upon other humans, but only on their representations as digital images, mannequins, or their body parts isolated from their whole in an operation setting.
The last image I kept from Albert's work, was a machine thrusting a steel rod into a fragment of a human body. Unsure if this was an act of care or of torment.
All artists involved were highly aware of media they employed and the contexts in which they operated. I leave in true admiration for the intimacy all participating artists created between their works and the audience.