Paratext #61 with Agustín Ortiz Herrera, Crater- Lab, Andy Gracie and Estampa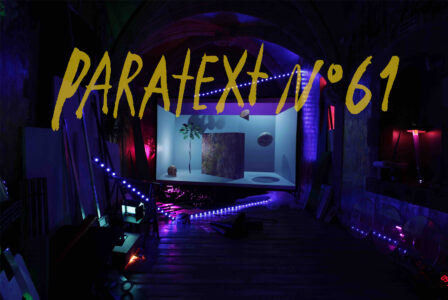 This name, Paratext, hides a monthly program of performances by artists in residence at Hangar as well as artists on exchange grants. They present, in different formats, specific projects or parts of their work. The sessions are always open to the public with the purpose of enabling interaction with the artists themselves. Each Paratext also has an editor who will later publish his or her impressions of the presentation on this blog.
The next Paratext session will take place on Wednesday, February 23 at 6 p.m. in Hangar's Sala Ricson.
On this occasion, Sergi Botella will be the editor.
Projects will be presented by:
Agustín Ortiz Herrera (Long-term residency)
Agustín Ortiz Herrera's artistic practice is developed in the fields of audiovisual, performance and installation. He uses these means to activate Queer possibilities in a patriarchal-colonialist context nurtured by the dominance of audiovisual persuasion and the normative representation of memory. Ortiz Herrera is interested in an approach to research and knowledge creation that works on the semantic possibilities of narrative audiovisuals in combination with experimentation on installation configurations.
Crater-Lab (Collective in-residence)
Crater-Lab is a laboratory of creation / production / experimentation and independent film projection, self-managed by artists and filmmakers. Its aim is to promote the production of a craft film support, focused on generating the material basis for creating and experimenting in all its processes (filming, developing, copying, animation, plastic intervention, projection, etc).
Andy Gracie (Ars Electronica Production Grant 2021)
Andy Gracie's practice is situated at the intersection of art and science and uses scientific theory and practice as artistic means to examine man's relationship to the post-natural world and the notion of reality. His work proposes scenarios of exchange between natural and artificial systems and spans genres and disciplines such as installation, robotics, sound, video and biological practices. Recently, his work focuses on the cultural examination of the science of astrobiology and space research, as well as notions of the origins of life, along with new analyses of its frontiers.
Estampa (Ars Electronica Production Grant 2021)
Group of filmmakers, computer programmers and researchers working from an archeological approach to audiovisual technologies. Between experimental cinema and essay, between détournement and critical engineering, their productions appropriate the tools that automate surveillance and exploitation, imagining a critical pedagogy for artificial intelligences. They have exhibited projects selected in different research and production calls.
The event will be held following all security measures.
Attendance is free and will be on a first-come, first-served basis.
With the support of: