Paratext #32 by Giuliana Racco
Paratext #32
December 19th 2018
by Giuliana Racco
Picture Giuliana Racco with Nenad Andric.

TMTMTM (Collective in residence)
BeAnotherLab (Collective in residence)
TOPLAP (Collective in residence)
The Curious Case of Artist Collectives
Collective – late Middle English (in the sense 'representing many individuals'): from Old French collectif, -ive or Latin collectivus, from collect- 'gathered together,' from the verb colligere from com 'together' + legere 'to gather'.
To gather together.
As a Hangar programme commission member and former resident artist 'upstairs', I was tickled when asked to write about the collectives 'downstairs'. I personally have often worked in collaboration with others but the focus has always been on specific artistic productions, something that differs greatly from the philosophies of the constellation of collectives that have resided and currently reside below[1]. So, I was curious to know how these artists perceive of and define their practices within this specific context. What are their drives and how do they operate in the intensified interdisciplinarity of the lower realms?
To start with, the criteria of selection for those who occupy these spaces is distinct. The open call values experimental interdisciplinary projects with 'aportaciones en términos de valor añadido y de servicios de apoyo (…) para las comunidades de Hangar', with a strong focus on the 'descripción del retorno'. Furthermore, the collectives are implicated in the weekly Open Thursdays, evenings when the Hangar community and the general public are invited to learn from the investigations.[2] Hence, there is an idea of 'service' to the community and public in the form of knowledge transfer in exchange for the spaces of operation, which is then interpreted in varying declensions by each specific collective. This is fundamental for understanding Hangar's role in the collective experiences, as represented by three cases of new residents who presented at Paratext on December 19, 2018.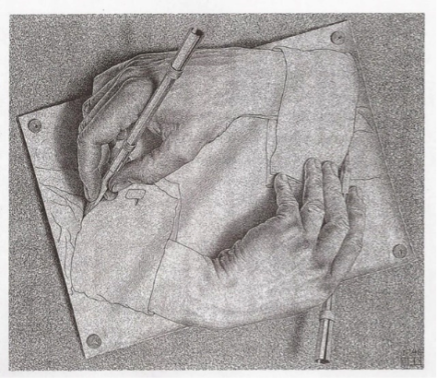 M.C. Escher Mans dibuixant, 1948
The first group to speak was TMTMTM[3], co-founded by Patricio Rivera, Belén Soto and Ali Yerdel, who delineate their practice between technology and artistic research, mainly in terms of service or production for other artists. Nevertheless, they blur the line between artist and production collective by questioning methods of production/reproduction, the concept of authorship, and power relations within production contracts. Banded together by what they saw as a material lack of specific equipment and technology in Hangar, TMTMTM offers 3D printer, plastic moulding, consulting, software creation and programming, whilst creating a platform for collaboration, consulting and co-workshopping, notably their techno-feminist inspired sex and technology workshop Clítoris que pinchan: taller de modelado e impresión 3D para diseñar armas de autodefensa. Based on open source practices, the collective perceives itself as an open association (as an association they can appeal for funding) between art and production striving for a different approach to production than the traditional market-driven model, acknowledging Hangar as a free space for sounding out the sustainability of this model.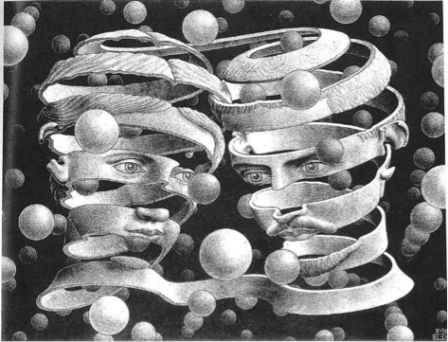 M.C. Escher, Llaç d'unió, 1956
Meanwhile, BeAnotherLab had just returned after touring abroad with their 'Machine to be Another'. This collective, hinging on the critical question of 'empathy', boasts a specific technical and social function within the framework of social art practices, with an 'open' nature. This allows their project to be accessed and appreciated by a most diverse public (i.e., from the World Economic forum in Davos to public schools in Ireland), bringing knowledge developed in Hangar to a highly diversified public. Describing itself as an antidisciplinary group of artists, researchers and activists, since 2012, BeAnotherLab has been questioning the relationship between identity and body through the development of a technology in which two users interchange body perspective, in the words of co-founder Christian Cherene, 'creating the illusion of body transfer', resulting in heightened experiences of empathy on the part of its users who, for a moment, feel precisely, as though they were another. The result is a border-crossing experiment between installation, research, performance and pedagogy, linking innovative technology to sociology.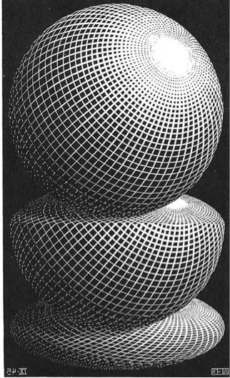 M.C. Escher, Tres Esferes I, 1945
Finally, Lina Bautista and Iván Paz presented their collaboration as participants in the Barcelona node of the global TOPLAP network, aimed at articulating the community of livecoders practicing audio-visual programming language. Through what they define as 'thinking live', Bautista and Paz produce logical music for experimentation, community and events. In Barcelona, TOPLAP's philosophy concerns technological appropriation and political response while promoting self-technology and open-source philosophy with a gender focus. They also host co-workshops, consult and foster knowledge-sharing, all the while contributing to Hangar's dedication to sound art, while fostering logical, public thinking, co-workshops, hackathons and algoraves – events where people dance to music generated from algorithms. At that moment, they were preparing for VIU, a livecoding festival held, precisely, at Hangar from January 21-25.
These cases express just three potentialities of the possibilities of what an artist collective can be, and particularly in the context of a hybrid, cross-disciplinary, socio-aesthetic, non-market-driven space as is Hangar. They are, respectively:
A service which raises the question of artist production in market-driven economy
A socially engaged-practice hybriding art and science
An experimental algorithmic music research, production and community development platform
And this is just what is 'in' Hangar now, the next round of collectives could and should be completely different. Distinct amongst themselves, the common thread is their residence in Hangar ­– a singular environment that allows for the existence of hybrid research, experimentation, knowledge production and sharing that is not focused on start-up market logic, but rather on investigating new sustainable models. If the artist 'studio', deriving from the Latin studium, meaning 'to study', is traditionally connoted as the space where the artist retreats to work, opening up for the occasional visit, the collective studio here is expected to engage more frequently with a wider public, through consulting, workshops and other services, in exchange for their spaces of operation. The gathering together of these attitudes, up, down and all around, compliment Hangar's quest to be a hybrid case of collaboration amongst curious participants and the local community.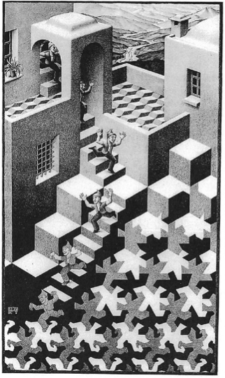 M.C. Escher – Ciclo, 1938
[1] The former Can Ricart building is structured so as the resident artists' studios are on the second floor, while the offices, services and other facilities (recording studios, equipment rental, co-working areas, etc.) are located on the lower level. Members of the various collectives are also housed here and enjoy a different status from that of the artists working above.
[2] Of note is the case of BEFACO, a collective that had resided in Hangar since its origins in 2010 until 2018. Over years of Open Thursdays, BEFACO shared knowledge with countless curious people who wanted to learn how to build their own DIY synthesizers. Concerning BEFACO's relationship with Hangar, their website states: [The] Befaco inititiative is possible thanks to the support of Hangar, an artistic production center in Barcelona, that has been supporting us since the beginning, without this support Befaco would have never existed in this way. (www.befaco.org, last accessed on January 20, 2019).
[3] TMTMTM is the acronym for The Machine that Makes the Machine, referring to the projects own 3D reproduction technology and to Nikola Tesla's experiments.