Summer Sessions 2020 open call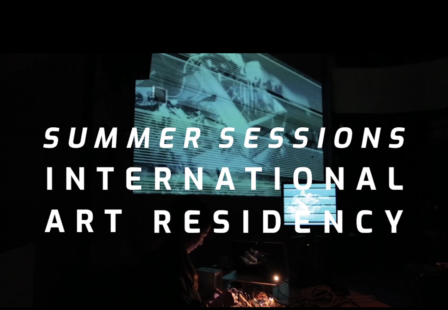 Open call for the participation of a Spanish artist in the Summer Sessions 2020 programme.
Summer Sessions are short term international art and technology residencies for emerging artists and designers. A network of cultural organizations around the world sponsors and hosts the residences.
This year, due to international travel restrictions brought about by the Covid-19 pandemic, residences will be conducted domestically.
Hangar will sponsor an artist from Spain to participate in this programme and to carry out a two-month residency in Hangar (Barcelona) and develop his/her project in a framework of collaboration with the institutions that are part of the Summer Sessions network:
V2_Lab (Rotterdam, Netherlands)
Art Center Nabi (Seoul, Republic of Korea)
Hangar (Barcelona)
iMAL (Brussels, Belgium)
Master in Technology and Aesthetics of Electronic Arts – National University of Tres de Febrero (Buenos Aires)
Metamedia Association (Pula, Croatia)
National Taiwan Museum of Fine Arts (Taichung, Taiwan)
Points Center for Contemporary Art  (Kunshan, Shanghai, China)
Objective of this call and its beneficiaries
The objective of this call is to select an artist to participate in the Summer Sessions Programme. This call is addressed to artists and designers who work with art and technology and who reside in Spain.
Period of residence
Each residence of the Summer Sessions has an approximate duration of eight weeks. During this period the artist will develop a project from the concept to the presentable work, ready to be shown. The dates of the residence in Hangar will be in September and October 2020.
Benefits and funding of the grant
– Workspace in the Hangar Interaction Lab
– Living expenses: €1500 (€700 per month)
– Fees: €500
– Production item: €950
– Accommodation costs: €800*
*in case the artist moves from outside Barcelona.
Application
– Applications should be submitted by sending the files to marzia@hangar.org with the subject "Summer Sessions 2020".
– Candidates should create a two-minute video explaining their project and how they will do it during the Summer Sessions. There are no restrictions on the subject or issue. Please note that any additional material, written or otherwise, may be submitted, although selections will be made solely on the basis of the videos. Videos can be uploaded to YouTube or Vimeo.
– Each artist can apply with only one project.
For further information about the application process, please contact directly: marzia@hangar.org
Commitments of the selected project
The selected artists will commit themselves to
– Participate in communication activities during their residence.
– Provide a final report of the project to the centres and an evaluation of the residence during the two months following its completion.
– Make a presentation of the results of the residency at the end of it in Hangar (Barcelona), within the framework of the Paratext.
Deadline for submission of applications
The deadline for receipt of applications is Thursday 23 July 2020 at 23:59 h CEST.
For further information
Miguel Ángel de Heras, head of Interaction Lab.
miguel[at]hangar.org