¡Calcalaluz!, by Valentina Alvarado Matos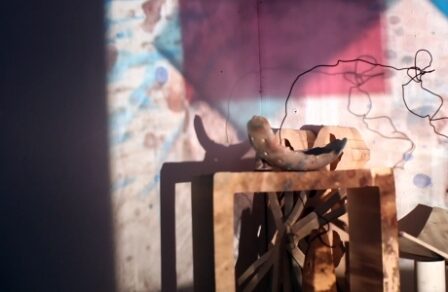 ¡Calcalalaluz! by artist in residence Valentina Alavardo Matos is an iteration of the Entreteixides study programme organised by Hangar, Can Felipa and La Escocesa.
The children's workshop proposes an approach to the moving image for young people to explore experimental film in four days of practical exercises. After learning about different formats (Super 8, 16 mm and 35 mm), the group will work together to make their own 16 mm film, which will be screened collectively at the end of the workshop. Direct animation is a technique within analogue cinema that offers an experimental liberation from increasingly digital visual cultures. Through scratches, paintings, collages and handmade drawings in motion, we will explore light, colour and projections, making interventions on the celluloid material.
Sessions
– First and second session: viewing of works and formats (touching celluloid, operating projectors, reviewing audiovisual references) and a bit of context.
– Third session: hands on! painting, intervening, tearing, drawing the material. Basic principles of direct animation, experimenting with inks and other materials on celluloid.
– Fourth session: observation and experimentation with the equipment ( modifications with lenses, etc.), arrangement and play in space, etc.
Practical information
Dates and time: 1 to 22 March, on Wednesdays from 6pm to 8pm
Recommended age: 5 to 11 years
Free registration here