Gabriel Lecup
Residency Grant at the Interaction Lab
june - august 2017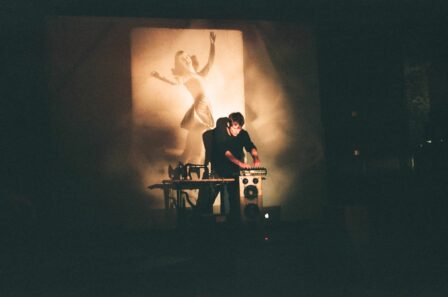 Gabriel Lecup. France, 1984.

Digital artist and computer developer based in Barcelona since 2013. Born in France, he has lived in Nepal, Vietnam, France, Argentina, Belgium and Spain.
He has received an eclectic musical training, a mixture of Hindu music, classical music in the national conservatory of Ha Noi (Vietnam), jazz in several schools and institutes in France, folk music in Buenos Aires, and experimental electronic music. He has studies of sound technician (BTS AV Toulouse, Sonic School Buenos Aires) and philosophy (Université Toulouse Le Mirail).
From 2005 to 2008 he has been dedicated to creating audiovisual installations for theater and dance. He has collaborated in a dozen projects in Buenos Aires, with directors such as Miguel Robles, Hernán Moran, Maria Urtubey, or Enrique Klose Escobar.
In 2008 he moved to Brussels, where he increased his interest in interactive systems and audiovisual programming, and where he trained as a self-taught in several institutes and workshops as a computer developer to make tools for sound technicians and musicians, generative audio applications,video-mapping programs and digital image processing. He is specially interested and is actively involved in the production and dissemination of open technology and free software.
His activity is divided between his own productions that can take a multiplicity of formats (audiovisual installations, performances, sound art pieces, digital art, video art, conceptual art, creative software, etc.) and collaborations (with McCallum, the sculptor Lluc Baños Aixala, the sound artist Chloe Despax, the choreographers Daisy Thompson, Mireia Arnela, Miguel Robles, …). In all cases, his work focuses on applying new technologies to artistic production, considering both the technical aspects and their symbolic, social and psychological scope. It is regularly presented in Catalonia – Hangar, Hiroshima Hall, Belles Arts Academy of Sabadell, Fundacio Arranz Bravo, Antic Teatre, CC Sant Jordi / Ribera Baixa, Centro de Arte Mutuo, Espai NIU, Addicted to Life, Nau Ivanow, Nau Estruch, StudioStore, Addicted To Life, Nokodek Festival, Open Air Festival, Symbolon Lab, Shopping Night Barcelona, ​​etc – and Brussels – HS63, Les Mariniers, L'Impasse Temps, La Maison de la Création, Recycl'Art, Le Chien Perdu, Bonnefooi , Micro Marché, Le Botanique, Okno, IMAL, etc.
Real Virtuality
Real Virtuality is a virtual reality application that is observed with closed eyes and is perceived with the subconscious. The project combines two techniques of synchronizing brain waves to induce altered states of perception, lucid dreams and hallucinations from audio-visual stimuli: strobe-flashing lights and auditory binaural pulses. The two techniques attempt to exploit the phenomenon of "frequency-following response" to force brain activity to synchronize with Theta (4-7Hz) and Alpha (8-13Hz) waves, associated with dream states, relaxation states, or transcendental meditation .
Real Virtuality proposes to transfer these techniques to the Virtual Reality, in a web application format compatible with all VR platforms and helmets. The application is an open research tool whose users create, share and enjoy content on an open and evolving platform. The source code is documented, public and open-source.