Antonio R. Montesinos collaborates in La Ciudad Participada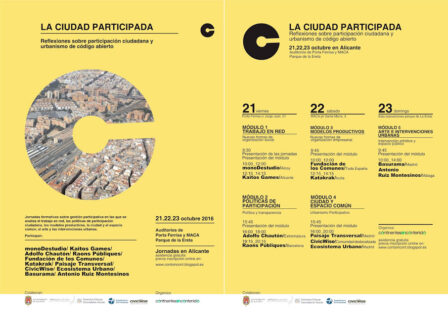 Next Sunday October 23rd Antonio R. Montesinos will be participating at the conference "La Ciudad Participada" in Alicante, organized by the collective Continentes sin Contenido within the series "City Plans".
Montesinos will be doing a collective mapping exercise around a topic that will be decided collectively from common perspectives around various problems about the city of Alicante. This exercise aims to use direct practice of urban space to make a collective mapping that will show hidden topics ignored by official cartography. For doing that they will use CyberParks WAY, an App for mobile phones that allows you to edit maps in real time.
The conference "La Ciudad Participada" is presented as educational meetings to improve methods and processes for citizen empowerment strategies converging interests with the public administration.
Free admission with prior registration.