Hamaca 2022 Open call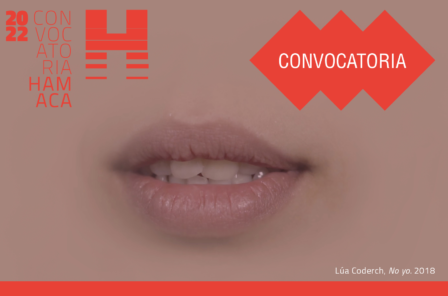 HAMACA opens a public call to incorporate new videos that will become part of its experimental audiovisual archive. The selected pieces will be catalogued and distributed by Hamaca on a non-exclusive basis, and may be part of the research or education programs Hamaca Screens and Hamaca Learns.
Participation is open to individuals or groups –that are not yet part of the catalog–, born, residing or being active in Spain, with no age limit, who may submit a maximum of three single-channel videos of any production date. The works may be produced in any language, but must include subtitles in Spanish. In case of film projects, the submitted format should be digitized.
Applications must be submitted exclusively through this form. The following documentation must be completed and/or attached:
Contact information of the author or collective (e-mail and phone number) | Bio (between 800 and 2,100 characters). CVs won't be accepted | Picture of the author or members of the collective | Title of the video | Technical specifications of the video: year of production, duration, production format(s), master's format, etc. | Synopsis of the video (between 800 words and 2,700 characters) | The link to the video(s), which must be available for online consultation, and the corresponding password if it is in private | Frame of the video in good quality.
Registration is free and will remain open until March 24, 2022 at 24:00h and no further submissions will be accepted.
The selection committee is made up of Andrés Duque, Pablo Martínez and Marta Sesé. The selection criteria will be based on the quality and interest of the piece, and its relevance to be incorporated into the archive being representative of currents, contexts or types of practices that have occurred and occur in the history of video.
On Tuesday March 1st at 18:30h we will organize a virtual meeting at meet.jit.si/convocatoriahamaca22 to clarify doubts and resolve questions that we will record and upload to our networks while the call is open.
The resolution will be public on April 29th in Hamaca's website.