ALUD! Festival of analog processes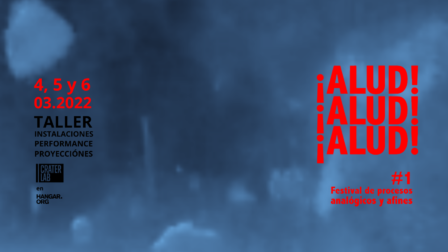 On March 5th from 6:30 pm to 11:30 pm will take place ALUD!, the First Festival of analog and related processes by the collective Crater-Lab .
An annual event with screenings, installations, performance and a workshop by Esther Urlus (Filmwerkplaats, NL).
Program
Lava storm, a program by Crater-Lab
A forest – Antonio Bértolo – Spain – 2021 – Source format Super 8 – B&W – Silent – Variable duration > Digital looping projection.
.
Ana Martínez – Facet Square – 2022 – 35mm, 16mm , super 8 – B&W and color – Silent > Installation
The purpose of this project is to make a reflection on the origins of cinema and today. For Edison, cinema was going to be an individual consumption, although in the end it was something collective. Nowadays, we are returning to that idea with the mobile screen, tablet…
.
The eye in the sky – Luis Macias – Mexico/Spain – 2021 – 16mm – 4:3 – color – sound – Source format: 16mm -9mn 20s > 16mm projection
.
Asynchronicity – Alfredo Costa Monteiro – Spain – 2021 – B&W – Sound – 4mn 48s > Digital projection.
In this short essay, two different notions of time are approached, one more rational and the other more spiritual. Both notions express a strong sense of connection with reality, but here, through a specific construction, space is fragmented; the impact of dissociated images, together with asynchronous sound and text, reveals the impossibility of processing a flow of events, thus evoking a particular impression of confusion.
.
Desterra (vint-i) Dos – Yago Alcover – 2021 – 16mm – B&W – Flat-print – Rayograms – Sound > Digital Projection.
Desterra(vint-i)dos is a material piece, edited and exhibited in/with elements from the area of Poblenou, Barcelona. In the heart of this neighborhood with an industrial past and a strong working class character, one finds an irreparable wound of an aggressive urban restructuring plan. A new case that exemplifies the logics of late capitalism regarding the banishment of different areas in large cities. Hence the idea of Desterra(-)Dos in conjunction with that "vint-i" in reference to the lavish 22@ plan. A film produced with the land itself, scraps, remains of construction material, like the dust and ashes of that territory. A visual and tactile metaphor of an urban and identity funeral.
.
El sueño de lxs diosxs – Elda Isavelina – Mexico-Spain – 2022 – Digital HD – Color – Sound – 5min.
In the beginning, there was only the ocean. In the ocean lived the gods. And the gods could dream. That was all it took for life to begin. Based on the Wixárika Story: The Dream of the Gods.
.
Round about – Katia Popova – Spain – 2022 – super8 – Color – Silent – 7 min > Super8 Projection.
The Francesc Macià square is one of the busiest in Barcelona.
.
An infinite line blurring time – Luis Macias & Alfredo Costa Monteiro – Spain – 2021 – 16mm – B&W- Sound – 30 min > Performance.
We shall not cease from exploration and the end of all our exploring will be to arrive where we started and know the place for the first time – T.S.Eliott
__________________________
Genii Locorum: Three works by Jean-Jacques Martinod
Dawn of Datura – Jean-Jacques Martinod and Bretta C. Walker – USA – 2021 Super16mm to Digital – Color + B&W – Stereo – 17mn > Digital Projection.
A farmer discovers a fallen meteorite in the high deserts of Chihuahua. Alien earth and terrestrial alien mingle under the spell of a deadly nightshade.
.
Recordings of the Night Eye – Jean-Jacques Martinod – Ecuador and Morocco – 2016 – Super8mm + 16mm to Digital – B&W – Stereo – 7mn > Digital projection.
A collage of collected images turned ritualistic travelogue: from the Sahara desert to the oceans of Ecuador, passing through the abandoned house of an unknown ancestor .
.
La Bala de Sandoval – Jean-Jacques Martinod – Ecuador – 2018 – Super16mm to Digital – Color and B&W – Stereo – 18min > Digital projection.
Isidro wanders through the jungle as he and his brother recall the times when he met death.
__________________________
Colour construction by Esther Urlus Konrad & Kurfurst – 16mm – 7 min, sound, 2013/14 > 16mm projection.
The handmade emulsion is a fragile metaphor for the heroism of Konrad and his horse Kurfurst during the Berlin Olympics in1936. Falling off his horse, he became a national hero, only to become an anti-hero when he was overtaken by history. Film made by consulting technical publications of early cinematographic and photographic experiments.
.
Deletion – 12 min, 16mm handmade emulsion loops printed in color, 2017 > 16mm projection.
Suggestion makes it possible to detect a negative space, a hint of an absent image, in an immersive cloud of colored granules. Its foundation lies in the viewer's imagination, accentuated by Ji Youn Kang's dark ambient soundtrack. Deletion was shot in 16mm using a homemade emulsion inspired by a century-old color process called "autodrome."
.
Study for a battle –16mm color film, 7 min, optical sound, 2018/19 > 16mm screening.
Using a special printing technique, Esther Urlus makes the images in the film look as if they were hand-drawn. She was inspired by late medieval sketches of felled horses and studies for spectacular battle scenes. The original pastel colors are based on the medieval "Epiphanie medicorum," a urine color wheel used for medical diagnoses.
.
Rode Molen – 16mm, 5 min, optical sound, 2013 > 16mm projection.
Piet Mondrian's series of windmill paintings and Red Mill in particular inspired this colorful study of printing techniques. The spectacular colors were created using double exposures with a mixture of additive (red, green, blue) and subtractive (cyan, magenta, yellow) colors.
.
Elli – 16mm, 8 min, sound, 2015 > 16mm projection.
Elli consists of a seascape filmed from the place where World War II began in Greece. However, it is also a continuation of my curiosity about color mixing on film. In this case, the optical blending created by various flicker effects.
.
Deep Red – 7'15 min, 16mm anamorphic/cinemascope, Ektachrome developed handmade, 2012 > 16mm projection.
Dense, addictive, multi-pass color print, with trees stripped of their leaves transformed into thirty-six layers of deep technicolor.
.
Idyll – 6 min, 16mm handmade developed color film, 2008 > 16mm screening.
An attack of nostalgia about childhood. The handmade bas-relief printing technique creates a colored image.
Practical Information
Date and time: Saturday the 5th of March, from 6:30 p.m. 18:30 to 11:30 p.m.
Venue: Hangar, Sala Ricson
Price: 7 €
Tickets: HERE
For further information regarding the workshop, write here: craterlaboratorio@gmail.com