WORKSHOP with THE MACHINE TO BE ANOTHER by BeAnotherab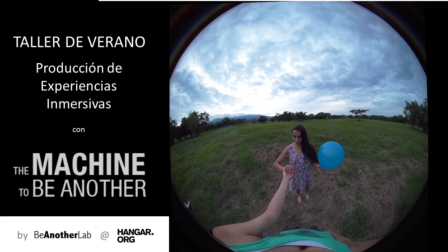 Across 5 afternoons, participants will be guided to experience different sets of The Machine to Be Another, learn and train how to create Embodied VR Experiences, and to co-create a new piece in immersive video for Embodied Virtual Reality. Researchers from BeAnotherLab will guide the process and offer immersive cameras, sets of first-person cameras and Oculus Rifts
DATES: 2nd or 3rd week of August (confirm your interest here)*
PROGRAM: 5 sessions of 4 hours each

Session 1: Presentation. Experiences with different sets of The Machine To Be Another. Brainstorming for immersive experiences production.
Session 2: Ideation, Storyline, Prototype of Embodiment interaction, Production Plan.
Session 3: Production of Video and Protocols of interaction
Session 4: Edition of Video and tests of protocols of interaction
Session 5: Presentation day of the finalised Embodied VR experiences.
INVESTMENT: 120 euros
CONTACT: beanotherlab(at)gmail.com . Please write "Hangar Workshop" on subject
LANGUAGES: Spanish and English
*Workshop will only happen with the confirmation of a minimum of 5 participants