Francisco Navarrete Sitja pre-finalist in the DISCOVER 2017 price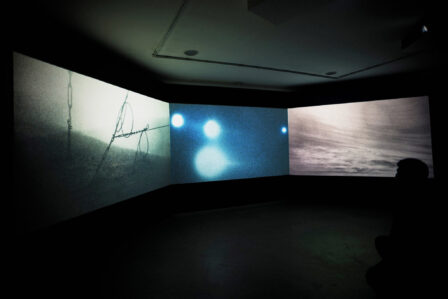 The audiovisual installation "Aparatos para un territorio blando" by Francisco Navarrete Sitja has been selected among the 40 pre-finalists among the 600 pieces of video art received in the call for the third version of the DISCOVER 2017 Prize, of the International Festival LOOP Barcelona. The work is available online on the DISCOVER Prize website, where it is possible to vote for the project to be part of the final exhibition, along with the 10 finalist films. Online voting will be available until April 30.
About the work, "Aparatos para un territorio blando" consists of an audiovisual installation of 3 channels, made up of intervened -texturized and re-framed fixed images- and sonorous landscapes compiled by means of contact microphone in the framework of a residence International art in the "Oasis de Niebla de Alto Patache"; the experimental scientific station located in the Atacama Desert, region of Tarapacá, Chile.
Registered locations, technical infrastructures and architectures, atmospheric meteors and materialities experienced in situ, in addition to the use of various recording devices and visual and sound postproduction, allow the artist – from an exercise of unveiling and simulation – to speculate on the relationships dialectics that take place around the temporality, contemplation and subjectivity of the landscape of this barren ecosystem intervened; geography to date confined to the idea of emptiness, invisibility and lack of density imposed by the productive and extractive orders of the national and global market.
In this way, from an approximation to the ephemeral climatic phenomenon of stratocumulus fog of the Atacama Desert – the fog camanchaca -, the displacement and poetic character of the natural and artificial light in the environment, besides the technical mediation of the devices of record and material density of digital photography, this audiovisual piece seeks to put into dialogue different dissimilarities associated with the materialities of this topography, the image and the contemporary observer. Thus propitiating a story about the symbolic uncertainty that falls on the future of the desert territory due to its imminent technical and imaginary expansion of indeterminations associated with the construction of the landscape and the configuration of our eyes.
"Aparatos para un territorio blando" has been exhibited at the Galería de Artes Visuales del Centro Cultural de España CCE-Santiago (Santiago, Chile); XIV Festival Internacional de la Imagen (Manizales, Colombia); Fundación Telefónica Venezuela (Caracas, Venezuela); Espacio San Isidro, U. Católica Silva Henríquez (Santiago, Chile); among others.
You can vote here:
You can find more information about the project here.