Paratext nº17 with Lot Amorós, Marcelí Antunez, Xose Quiroga, Ruben Patiño i Carla Boserman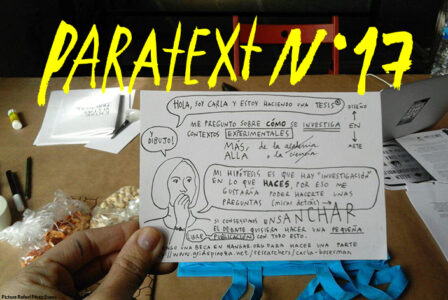 Paratext hides a monthly schedule of presentations by artists in residency in Hangar, always on Wednesday from 7 pm to 9.30 pm. Several artists present in various formats specific projects or parts of their works. The meetings are always opened to the public in order to enable interaction with the artists themselves.
Next session will take place on Wednesday, May 17th at 7 pm in Hangar at Ricson space.
The artists will present their work:
In 2013, the Spanish artist and activist Lot Amorós visited the Deserts of Egypt in the framework of their research on UAV (Unmanned Aerial Vehicles). Once there, he placed posters throughout the territory informing its inhabitants how to protect themselves from the Israeli Hebron drones. The posters reproduced instructions in Arabic taken directly from authentic Al-Qaeda documents on Drones, but suppressing all military or violent references that were replaced with peaceful instructions directed exclusively to provide innocent civilians with a range of instruments of protection against unmanned aerial vehicles, consistent with the in everyday materials and waste, such as old cars, broken appliances, etc., with which to construct devices to inhibit frequencies, to blind cameras, etc.
I.M.V.E.C (Instituto de Monitorización y Vigilanvia de Espacios Contaminados) is an open citizen institution for the design of prototypes and research and training ECOforense oriented to the generation of tools for human adaptation (in urban or rural areas), pollution processes related to the management of urban waste in landfills, Heavy industry or mining. As a species, and thanks to the irremediable impact we have generated globally on the planet, we are facing the challenge of adapting ourselves to survive in a new range. Of urban and natural spaces contaminated and potentially harmful to our health. The IMVEC team, through its two main pillars, intends to design and make real tools and useful work strategies that serve the societies of the future, in order to confront these hostile spaces with the greatest possible possibilities of success.
Systorgy consists in releasing the tools and devices that Marcel·lí Antúnez Roca has used since the nineties to carry out its actions and interactive installations. These tools make it possible to construct complex temporal interactive structures. Normally the interactive systems contemplate three domains, the interfaces, the computational management and the representational medium. On this diagram, Antúnez has developed a methodology that he calls "Sistematurgy", literally dramaturgy of computational systems. The heart of this method is the POL program. This application has until now been used only by Antúnez and what is intended with Systory is to turn it into a freeware. The project also offers some solutions to build interfaces and the publication of the PIXMAPS library based on Open Frameworks free software. PIXMAPS allows one to extend video management.
Experimental cultures and material thought: A methodological approach to research in art and design.This research proposes an account that moves from the scientific laboratory to the "new" laboratories, from the scientific experiments to the collective experimentation, and from the forms of documentation proper to scientific experimental culture to the forms of registration of experimentation in art and design. It aims to think about how to attend practices between art and design that happen in "laboratories" that exist outside scientific disciplines and academic regulations. Spaces of research and material experimentation, where prototypes are developed, processes are documented and objects are created, resulting into a series of practices that not always have an orthodox approach to research, which does not necessarily mean that they don't content knowledge. In particular, a methodological approach is proposed to these spaces exploring the potentiality and limits of the graphic story as a recording device in experimental processes.
Rubén Patiño is an artist working in the field of Electronic Music and Art. He is focused on the sculptural properties of synthetic sound while exploring the limits of concert, public event and installation. All his works tent to contain different strategies regarding space and formats of presentation while combining sound, lights, text, image or found materials with elements of early electronic music, ideograms and 20th Century art movements.