Manifiesto of not doing. I never want to work ever again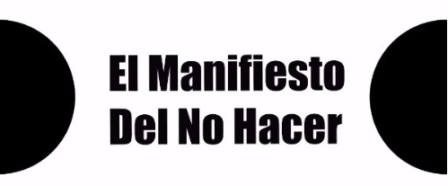 On Saturday 11 March at 19'00h the artist in residence Christina Schultz gives a talk about the Manifesto of not doing in the gallery Hans & Fritz Contemporary. This manifesto substantiates the counterproposal to work / not to do. A proposal from the artistic and playful.
Playing is a very serious activity. In times of overproduction, a capitalism unbridled in the name of democracy, labor slavery, not only of an external master but of ourselves, and of a profound lack of time we must respond with great joy, responsibility, invention and Will.
Not doing is a vital and playful proposition to an exhausting life.
This event is part of the 'Not Doing Lab, an experimental proposal against work', which will take place from April 8 to May 19 at Hangar and Blue Project Foundation in Barcelona.