Paratext Encura 2.2 with Maykson Cardoso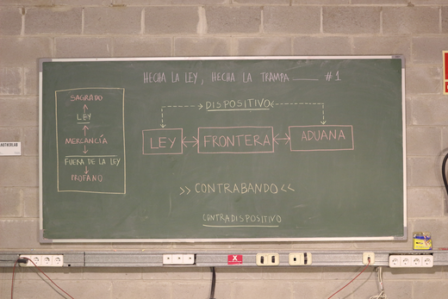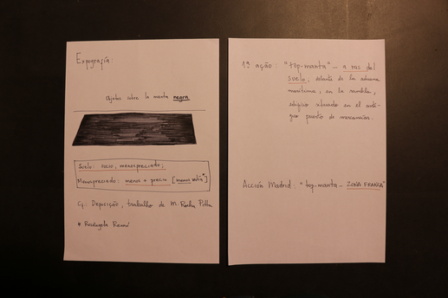 This name, Paratext, hides a monthly program of presentations of the artists residing in Hangar for long and short duration, as well as international residencies, and always on Wednesday, from 19.00 to 21.30h. Several artists will present in different formats, concrete projects or parts of their work. The sessions are always open to the public with the purpose of facilitate interaction with the artists themselves.
Next session will take place on Wednesday, February 18 at 7.00 pm in Hangar at Ricson space.
Project which recovers one of the art strategies conceived by Lucy Lippard at the end of the 1960s, called "Suitcase shows"  which consisted in the act of carrying artworks in her suitcase from one country to another. This project, though, adds to Lippard' strategy the concept of smuggling and connects it with the idea of threatening borders and their control devices. It plays with the idea of art as a potential merchandise and reveals its possible condition as a banal object which can be smuggled «hiden» among other personal objects in a luggage, without being declared or paying any taxes for its transportation.
The idea is to sell the works produced during the development of the project outside of Spain at popular prices in exhibitions which will take place at a popular market in Barcelona or Madrid during the curatorial research residency.
During the residency the curator will work jointly with four artists established in Barcelona and he will smuggle some of their works at his return to Brazil, in order to repeat similar exhibiting actions than the ones carried out with the artworks of the artist from outside of Spain.
The project is based on the curatorial work of Maykson Cardoso and the collaboration of Olivia Ardui and brings together artists who, in different ways, are interested in the topic of borders, such as: Andrea Gómez (Colombia), Alejandra Avilés (Mexico), Carlos Monroy (Colombia), Daniel Escobar (Brazil), Eliana Beltrán (Colombia), Gian Spina (Brazil), Maria Sabato (Argentina), Mano Penalva (Brazil), Nuno Cassola (Portugal), Rafael Perez Evans (Spain-Wales) and Tali Serruya (Argentina).
The project aims to critically reflect on the topic of borders and smuggling as a strategy that threatens them; the condition of art in contemporaneity, his potential as a merchandise and the role of curating itself.