Paratext #69 with Amira Lamti, Rezaoui Hakim and Javier Arango Garfias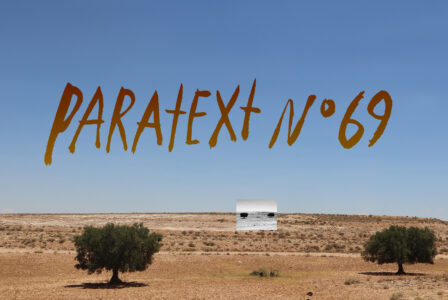 This name, Paratext, hides a monthly program of performances by artists in residence at Hangar as well as artists on exchange grants. They present, in different formats, specific projects or parts of their work. The sessions are always open to the public with the purpose of enabling interaction with the artists themselves.
The next Paratext session will take place on Wednesday, February 22 at 6:30 p.m. in Hangar's Sala Ricson.
Projects will be presented by:
Amira Lamti. Tunisia, 1996 (Jiser residency)

Amira Lamti is a Tunisian visual artist who recently obtained her Master in Visual Art from the Higher Institute of Fine Arts in Sousse after pursuing her Bachelor in Photography, the field in which she chose to sharpen her first artistic experiments.
She has been exhibiting regularly in Tunisia and completed her artistic residency at the Art Center in Rades, Tunis with a solo exhibition at the Yosr Ben Ammar Gallery in Tunis as part of the Jaou 2022 Biennale. Amira displays her love for the sublimation of a material existence through an intuitively arranged artistic interpretation. She enjoys cutting her realities into dreams which she constructs, through a narrative approach of a contemporary visual artist; a free photographic storytelling.
Hakim Rezaoui. Algiers, 1991 (Jiser residency)

Hakim Rezaoui is an Algerian photographer born and based in Algiers. He holds a master's degree in international marketing from ESAA, University of Lille. Rezaoui uses the poetic field as the center of his visual creation, around which gravitates a continuous introspection, doubts and ambiguity expressed through blurs, floating and disturbing spaces.
Javier Arango Garfias. Mexico City, 1985 (Jiser residency)

Javier Arango Garfias is an artist dedicated to analyzing the symbolic and political elements surrounding human society. He is dedicated to research and production that relates forms of power and control with ideas such as identity, territory or migration and how these relations of friction and force have the capacity to define affective, social and political constructions on both an intimate and economic level, showing themselves as anthropological representations of a social system currently under definition.
He was the representative of the Saharawi Arab Democratic Republic at the 56th Venice Art Biennale, "Il Muro sopra l'acqua" in 2015 and in 2016 he collaborated in the first Festival of Arts of the Zapatista Army "CompArte for humanity" in Chiapas, Mexico and "ARTIFARITI Festival of Art and Human Rights ", in the Western Sahara Refugee Camps in Algeria since 2014.
He is a recurrent teacher at the Saharawi School of Art and a member of the Popular Front for the Liberation of Saguia el Hamra and Rio de Oro, he has also collaborated at the Higher School of Fine Arts in Algiers during the student movement Infidjart in 2015.
The most important appearances are "La primera fosa" CCCB Barcelona 2019, "Fúnebre" Orońsko, Poland 2019, "Límites y resistencias" Ex Convent de San Agustí, Barcelona 2018, "Löquedum" Centro Nacional de las Artes, Mexico City 2016. "Siroco", Casa Sahara, Seville, 2015. "Tárik", Library, Saharawi Camps, Algeria 2014, "Horror Vacui", La Esmeralda Academy of Arts, Mexico 2010 and collectively in cities such as Mexico, Barcelona, Berlin, Warsaw, San Cristobal de las Casas, Juarez, Merida, Bogota, Seville, Paris and Algiers.
He is founder of the artist-run space "Granados26" in Mexico City and "NOMEVOY" in Barcelona.
Free entrance.
Supported by:

Image: Amira Lamti