Ekphrasis, listening session for Sala Ricson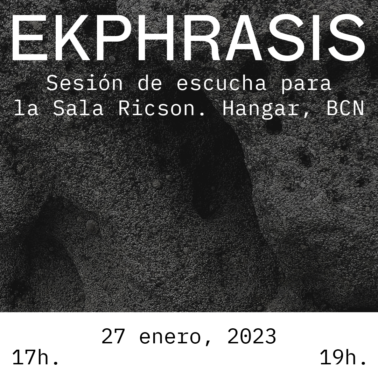 On January 27, Diego Bustamante presents the results of the residency he has carried out during 2022 as part of the experimental program on music and sound Audio Formal/ Listening Politics. Bustamante has developed a sound content curatorial project that explores the relationship of sound material within artistic production, establishing a dialogue with different artists who have been residents at Hangar from 1997 to date, encouraging them to revisit their personal archives, locate sound pieces and unveil their stories.
With this exercise of revision and emphasis on sound, the aim is to give value to sound pieces of diverse nature, treating them as autonomous pieces and making them coexist in a space specially prepared for an attentive listening.
For its public presentation, this project will adopt the format of a 'listening session', exploring the possibilities offered by the Ricson room, the sound spatialization and an automated programming of the content.
Participants
Ainara Elgoibar, Alba Mayol Curci, Alberto Peral, Andrea Gómez, Anna Irina Russell, Antonio Gagliano, Ariadna Parreu, Diego Paonessa, Jeleton, Joan Morey, Jordi Ferreiro, Jorge Satorre, Julia Spínola, Lara Fluxà, Luis Bezeta, Luis Bisbe, Luz Broto, Marc Vives, Mario Santamaría, Mariona Moncunill, Martín Vitaliti, Paula García-Masedo, Rasmus Nilausen, Ryan Rivadeneyra, Serafín Álvarez, Sergi Botella, Su Yu Hsin and Violeta Mayoral.
Ekphrasis is the title taken from the piece that Rasmus Nilausen has chosen for this session.
Editing support: Òscar de la Fuente.
Diego Bustamante Giraldo (Colombia, 1979) maintains a special interest in music and sound experimentation from the perspective of listening as an audience, on which he has developed projects such as Pelousse (2008-2013), a photographic itinerary and a series of fanzines edited by TDpapeles about the experimental music scene in Barcelona. As a programmer he is co-founder of MUNT, a platform that since 2012 programs and edits sound actions produced specifically for L'Automàtica, a collective press of which he is also a founding partner and active member. As a graphic designer he is part of ODD, a studio that since 2014 develops editorial design and visual communication projects in the field of culture, with a particularly close relationship to the visual arts and independent music.
Practical information
Date: January 27th, 2023
Time: 17 to 18:30 h (First show)
19 to 20:30 h (Second show)
Venue: Sala Ricson, Hangar
Free admission