Paratext#33 with Marit Tunestveit Dyre, Laura Ige, Sofiane Zouggar, Meriam Ben Amor, Anna Irina Russell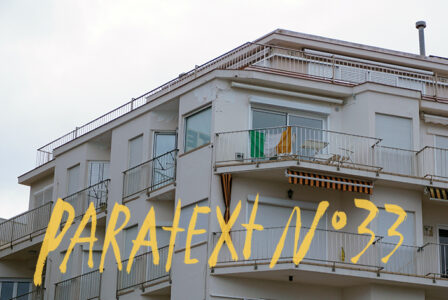 This name, Paratext, hides a monthly programme of presentations by the artists residents in Hangar of long and short duration, as well as the international residences, always on Wednesday, from 7 p.m. to 8:30 p.m. Various artists will be presenting in different formats, specific projects or parts of their works. The sessions are always open to the public in order to facilitate interaction with the artists themselves. In addition, each Paratext has an editor who then publishes his/her impressions of the presentation on this blog. On this occasion the editor will be Michael Lawton.
The next Paratext session will take place on Wednesday January 30th, in the Sala Ricson of Hangar, at 7 p.m. Projects will be presented by:
She finds inspiration through observing the world, at close hold and at distance, in dialogues, in words, in self-perceived situations, through interaction and in the questions that arise when faced with something that to her is new, something that triggers, fascinates and or annoys. Her work respond and reflects her current occupation, and she is interested in questions related to human dignity, immigration, social, cultural, economical and political value systems and hierarchies and exchange of knowledge. She is interested in how we interact and communicate privately, nationally and globally, and tend to find her self drawn towards formats of expression or subjects of interest that are somehow outside of her knowledge or comfort zone. Textile is a recurring and important element in her practice, both as a physical material and as a rich source of inspiration. She is drawn towards the material because of its inherent qualities; its soft and flexible. Because of its practical use; traditionally, but mostly what she looks at as; the expanded use of textile in various social, cultural, urban and political contexts. Because of the materials historical, cultural, social and personal references and associations, because of traditions and how a textile; being a flag can bring people together, or divide them apart. Her work has in recent years taken the form as performance, in flag form, as photo, text and as sculptural objects that require or invite the audience to participate. She graduated in 2013 with a Master in Fine Arts and a Bachelor in specialized art textile from Bergen National Academy of Arts and Design in Norway.
Her field of experimentation is visual arts, sound art and writing on gender, authorship, appropriation policies and social and digital debris. Episodes of doppelgänger (dolls built with the same physiognomic characteristics as the herself) to resort to Uncunny, the fake, the artificial, duplication and mimesis, through fiction as a strategy. Dolls that are role-playing vehicles for experimenting with femininity models, exploring feminine desire and identity. As a reaction to the growing commodification of the body, but also following Japanese spiritual beliefs, where the soul can exist in everything and anything – and giving them the same importance as a human being – the relationship between machines and products, objects and people is increasingly difficult to define.
All these questions, the different performative dimensions of art, the metaphor of the doll as an example of representation, the role of sexual difference in the construction of images, the connection between technology and sexuality, the dissection of her own body and feelings in the operating room, the multiple, deformed, rare and alien as ideal environments, psychopathologies as a space of normality against the medical system, her biocontrol establishment and capitalist schizophrenia, are for her, serious things. Her aesthetics are the ethics of existence. The scenario where aesthetics become the ethics of existence is everyday life. Her performance consisted of being herself.
She studied at the Faculty of Fine Arts of the National University of La Plata in Buenos Aires, in addition to participating in seminars, workshops and art clinics outside the academic field since 2013. She studied piano at the Conservatorio de Música Julián Aguirre and medicine until the fourth year at the Universidad Nacional de Buenos Aires. He is currently doing the Master Program MAPS, Arts in Public Spheres, at ECAV – École Cantonale d'Art du Valais in Sierre, Switzerland. SACHA Foundation Grant 2017-2018 / ArtEdu Grant 2018-2019.
Sofiane Zouggar has graduated in Ceramics from the École des Beaux-Arts of Algiers in 2010. His work focuses on researching the Algerian identity and sociopolitical issues, as well as the human conditioning in relation to information. Working since 2013 on the archive and memory of the "Dark decade" (or "The Algerian civil war") through exploring the image as collective memory. His work, also questions the image of violence related to architecture and images over the collective memory in Algerian society, and recently began work on temporary spaces as Utopia on Football Ultras in Algeria as a model of social and political claim.
Sofiane uses different mediums such as photography and video, sound, movement and interactive installations. He has participated in several exhibitions including Dak'Art 2012 Biennale in Dakar, Senegal; the World Event Young Artists in Nottingham, UK ; Picturie Générale in Algiers, Algeria; the "The MoMRtA" (The Museum Of Manufactured Response To Absence) at The Museum of Modern and Contemporary Art – MAMA in Algiers, Algeria; The Algerian Pavilion at the Dak'Art 2014 Biennale in Dakar, Senegal; Festival National de la Photographie d'Art (FESPA), La condition humaine, Algiers; The Qalandiya international Biennial in Ramallah, Palestine; The Bienal de Imagen en Movimiento in Buenos Aires, Argentina, Pan-African video art festival Boda Boda Lounge, Algiers. And recently in June 2017 at Museum of Contemporary Art Leipzig "Chinafrika, under-construction" and in October 2017 group exhibition at Les ateliers Sauvages" Effacement", March project exhibition, commissioned by Sharjah Art Foundation.
Graduated from the Master of Research in Visual Arts, Meriam Ben Amor is always on the hunt for everything that comes from methodology, logic and language, to develop practices that question the process. This search is enriched with experiences and observations of their experiences. It observes and monitors the slow and rapid transformation of everything that intrigues it, such as rhythm, writing, footprint and machine.
Meriam began her quest by serving blind people to teach them art and, more specifically, to draw compositions using her own Braille writing, as a Prometheus mission, stealing the secret of the Gods' fire to give to humans.
Her curiosity towards the "Divine Secrets", as she calls them, especially towards the machine, began from her childhood: a curiosity that she drags as a child when, for cardiac reasons, she puts herself in the ECG electrocardiogram machine in her usual controls. An experience testified by every image that fills a medical file that she has kept for twenty years. Memories that led her to ask questions about the machine and the image, such as: is it the machine that draws these fingerprints or your heart? Thus she achieves a spell of visual poetry, her own graphic language that experiments with features and sounds in search of an environment that seems to be created in proportion and unity, whose writing does not contradict the gesture or the language of the ECG.
Interested in everything that comes from the beginnings, in the moments when logic, process and language are at the beginning of structuring, Meriam's practice is impregnated with semiology and the evolution of new technologies, diverse visual techniques and different experimental terrains (experimental video, painting, video installations, writing and sounds) that guide and gain her in the experimentation of devices and the introspection of the image. Following her quest, Meriam opted to remain closer to language by basing this time on the experience of music, thus inscribing its problems, which will be dealt with in the project of the residence; the evolution of the score from classical music to electronics.
Currently, Meriam Ben Amor is beginning a doctoral research on the digital art market while continuing to explore her career by exhibiting collectively at the Bchira Art Centre, the Archaeological Museum of Sousse, or the ElBirou gallery, and developing her own artistic approach in residencies such as the Centre des Arts Vivants de Radès (Tunisia).
Her artistic practice is based on leisure as a tool for research and approach to the immediate environment. She works from the creation of absurd situations in order to decode the established psychological and social constructions. She is interested in dynamiting the relationships between body, space and object from the disconcerting and unusual, using interfaces as a space for interaction. She's attracted by error, failure, accident, noise and distortion, as it accentuates the way in which we understand 'reality'. She has recently been working on the potential of sound and its persuasive effect, and how it affects the perception of the environment. When the appearance of what is used to represent an object, whether tangible or intangible, is closer to the object represented than the original, an idea that starts from the analysis of Foley as a case of an approach to reality, where what we hear does not really provide what we see in order to give more credibility to each situation. There is a dissociation of the sounds and their sources, where the generated sound does not coincide with the object that generates it.
Both in the action / performance or in the interactive installations with which they work, they have a real-time and alive component that understands the public not as an object but as an essential subject that becomes a part of the action. The uncertainty and improvisation of the moment makes it possible to break down, mutate and adapt to the reactions produced to the proposals put forward. Although it often uses installation, action and video, its practice is deployed in various formats, taking into account the context of each project. She currently works as a freelance hairdresser, also working as a platform for the dissemination of artistic events.
Graduated in Fine Arts from the University of Barcelona, where she is in the process of research and production of the final project of the Sound Art Master Degree. She has been one of the artists resident in Fabra i Coats (2017/18) and has participated in several residences such as REITIR (Iceland) and Sketch'm Up (Marseille), always in collaborative and multidisciplinary projects. She is part of the Bacanal del Sâlmon Festival (2018), as well as he recently participated in Seismes (Fabra i Coats), in the cycle of Art Nou in La Escocesa (Bcn) and in Embarrat_17 (Tàrrega). He has also shown his work in collective exhibitions in Sala Usurpada (Bcn), Convent de San Agustí (Bcn), Nau Estruch (Sabadell), Alþýðuhúsið, Reitir (Iceland).