Audiovisual editing workshops with free and open source software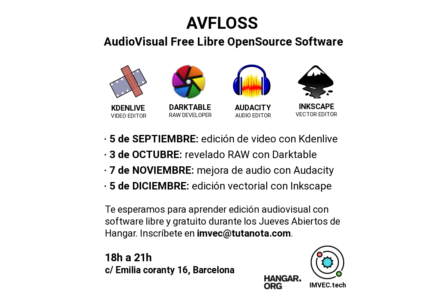 The collective in residence IMVEC.tech has organized a series of monthly workshops specialized in audiovisual editing with free and open source software. On the first Thursday of each month and coinciding with the Open Thursdays, a thematic workshop will be held to cover aspects related to video editing, audio, vectors and developing RAW files.
Calendar:
Video editing with Kdenlive: September 5th
RAW Processing with Darktable: October 3rd
Audio editing with audacity: November 7th
Vector editing with Inkscape: December 5th
The workshops are free and require prior registration through imvec(at)tutanota.com.