Francisco Navarrete exhibits in "Paisajes: De la plata al pixel" in Bilbao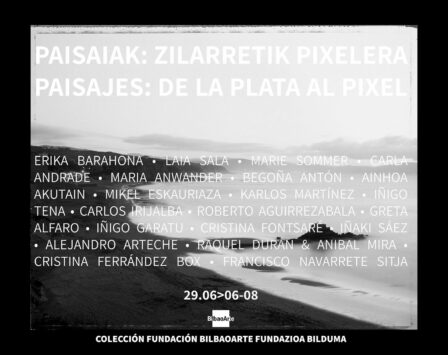 The artist in residence Francisco Navarrete Sitja participates in the collective exhibition of photography "PAISAIAK: ZILARRETIK PIXELERA / Paisajes: De la plata al pixel" that opens on Friday, June 29 at 7:30 pm in the BilbaoArte Fundazioa Exhibition Hall. The pieces, selected from the Foundation's collection, share an interest in the landscape in this sample produced in the center.
One piece of Navarrete's project "Meteoros, aparatos y vórtices" is the selected one selected to be part of the exhibition. This project aimed to generate a dialogue between the natural and industrial environment of Bizkaia and certain technical and atmospheric manifestations linked to the visuality of the Tech Noir cinema; visual reference that accounts for the requirement of other possible universes product of the dystopian facet with the artificial.
The exhibition can be visited from Monday to Friday from 5:30 pm to 8:30 pm until August 6. Free entrance.