Albert Merino presents his latest video production at Flux Club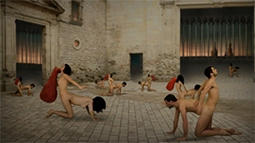 On February 5th, at 9 p.m, Albert Merino, winner of the exchange grant Casa de Velázquez – Hangar, presents his third session at the Flux Club of Antic Teatre. Over the last few years, this programming has been a platform where he has been presenting his video production during different periods of his career. This time he presents five new pieces not seen before in the Flux Club that go through a production period of the last five years.
Most of the pieces presented have been supported by institutions such as Casa de Velázquez, where he is currently a resident artist. During this period, Albert Merino has deepened his visual imagery, experimenting with new languages ​​and integrating all kinds of elements of his daily life. These pieces have also incorporated elements of various trips understood as an ambulation throughout a continent. In this session the Bestiari piece, shot in Madrid, premiered for the first time and reflects on the border between men and animals, and between the natural space and the urban space.