Anna Irina Russell and Aldo Urbano at Stimulus by Swab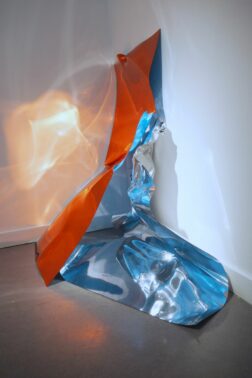 From 26 to 29 September the artists in residence Anna Irina Russell and Aldo Urbano will take part, together with Lucas Baños Aixalà, Guillermo Moreno Mirallas and Jessica Moroni, in Stimulus, the exhibition that forms part of the third edition of the programme Ephemeral Presented by Swab. Curated by Caterina Almirall, Stimulus brings together a selection of installation works that enhance the public's interaction with the pieces.
Stimulus is something that incites action or effort, that provokes or accelerates action, feeling, thought, etc. In biology it refers to something that excites functional activity in an organism and causes the body to react. Under the title Stimulus this program deals precisely with the analysis of forms of perception and communication with the environment. The artists work on the construction of languages and forms of communication, develop communicative and interpretative strategies through the materials they manipulate (rocks, metal, branches, light, sound, colour, language or the body itself), in order to try to understand our relationship with the world through the senses. The senses are the primary channel of communication at all levels, between humans, non-humans and the environment; and it is on them that contemporary artistic and conceptual production is essentially based: understanding that the senses do not generate truth but systems of relationship. Stimulating them, as well as observing them, manipulating them or inventing new ones, allows us to become aware of them and of how they operate in us.
Parallel to the exhibition at the Fair, visits to the Fàbriques de Creació will be organised with the Swab Collectors Programme.
Ephemeral has the support of Hangar, Fabra i Coats and La Escocesa.