Auto Atadura Erótica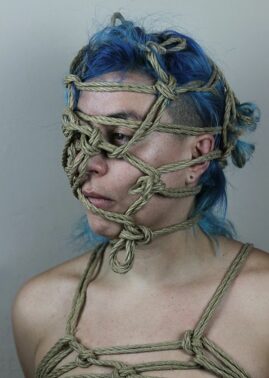 On July 21 from 7 pm to 9 pm, Ce Quimera + Gaia Leandra, resident collectives of Wetlab, present the theoretical-practical workshop Auto Atadura Erótica, in collaboration with Glü Wür at Hangar.
The workshop is aimed at all body types and levels, looking for everyone to explore their limits and movements, learning to use self-restraint as an ally to our sexuality. We will learn how to tie ourselves on the floor or chairs to generate safe routes where we can explore and investigate possibilities of genital self-torture; safety and introduction to the equipment; warming up the rope: introduction of knots and friction in self-tying; sensation of handling the rope and our body and self-restriction by tying randomly on the floor. We will play with the rope on erogenous zones such as nipples, genitals, tongue, to create different sensations: pleasure/ pain/ discomfort/ vulnerability.
Practical information
Date: July 21st
Place: Hangar, Sala Polivalente
Time: from 7 pm to 9 pm
Price: 25 €.
Language: Spanish
Registration: gluwur@gmail.com
* There will be ropes available during the workshop, but if you have your own, bring them.