Freak Show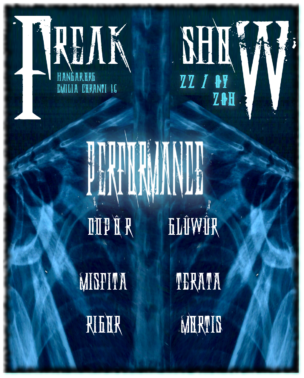 On July 22 at 8 pm, Ce Quimera + Gaia Leandra, resident collectives of Wetlab, present 3 performances at Freak Show, in collaboration with Misfita Terata at Hangar.
Dō by GlüWür
The performance will be a ritual of strings and musical instruments. The strings possess a liberating or cathartic component by restraining the body. Employing self-tying, it conflates the forces of nature and human life. Symbolizing sacrificial practices, with a component of social criticism to seek physical injury and pain as a means to an altered state of consciousness with which to achieve the search for knowledge and fusion with the beyond through pain.
La condesa sangrienta
Why should our bodies end in the skin or include it as many other beings encapsulated by it? We do not need an organic holism that gives us an impermeable totality[1]. The idea is to expand yourself through bioports, to make cold and inert materials part of you and your senses even if only for a few seconds.
Long live the new flesh[2]!!!!! To the interfaces that open in the skin, to the death of utopias, of gender, to the amplified noise and the caresses of a scalpel; to the memory that flows liquid and hot through our veins. And to the blood of which we are the owners.
[1]Donna Haraway. Cyborg Manifesto. 1984
[2]David Cronemberg. Videodrome. 1983
Metamortfosi
to be reborn, to mutate, to proceed to structural, physiological and neuronal change.
Constructive, descriptive. Visceral, real. Outward and inward. Towards life and towards death.
Practical information
Date: July 22nd
Place: Hangar, Sala Ricson
Time: 20 h
Price: 3 €.