Self-management PIGS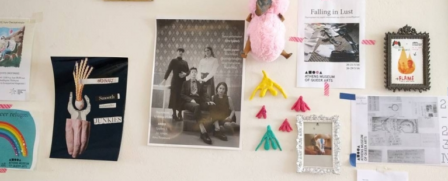 The resident and teacher of the PEI Lucía Egaña organizes and coordinates Autogestión Cerda a meeting between self-managed queer groups that will take place at MACBA on February 6 and 9 2018.
Meeting to share strategies, methodologies and research topics of four groups from southern Europe working on the limits of cultural production and the activism of sexual dissidence. Through a practical and collective proposal, four workshops will be developed with PEI students and interested persons.
The first referential frame that gathers them is their geopolitical context of origin, since the collectives summoned reside and work in the European countries known in the Anglo-Saxon realm as PIGS (pigs in English): Portugal, Italy, Greece and Spain, countries considered as poorer and more economically and politically unstable within the European context.
The second frame of reference has to do with the fact that collectives or people develop work practices linked to cultural production, and these, in turn, are traversed in a different way in their trajectory by sexual dissidence, feminism, queer practices and Political work and activism. In this sense, the pejorative enunciation of bristles seeks to be able to invert its burden through inquiry about work models, methodologies and self-managed production as a form of autonomy and critical articulation.