Dervish Workshop with Graham Biswell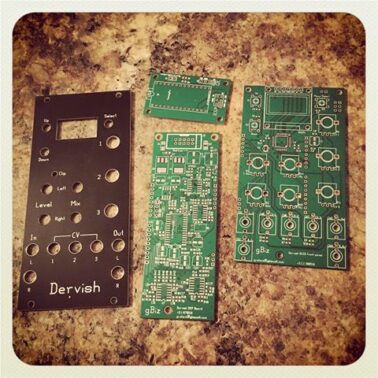 During this workshop we will build, program and customise a Dervish DSP FX eurorack module. this module is based in a popular DSP chip in DIY scene: Spin FV-1
The goal for this workshop is for the attendee to build a Dervish, and gain an understanding of how to customise it using the scripting environment. We will look at what it takes to convert an existing FV-1 binary program to run on Dervish. An overview of the FV-1 chip itself will be provided. We will look at how to take example programs, modify/compile/upload them. (Please note this will not be an in-depth workshop on how to program DSPs. This is intended as an introduction to the FV-1 and provide sufficient information for the student to compile and modify existing programs).
Price of the kit + customization: 80€
Just thecustomization workshop (in case you already have a the Dervish): 20€
Hours:
Thursday 23: 17:00-21:00 (Introduction)
Saturday 25: 11:00-20:00 (Construction and customization)
Sunday 26: 11:00-20:00 (customization)