Technological Body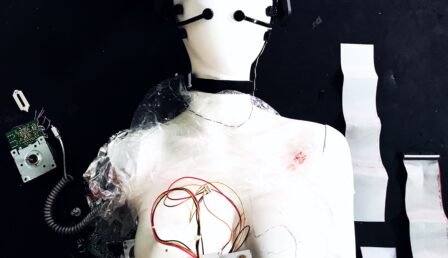 On April 12, at 6 pm, the third session of Technological Body, a reading group articulated by Nuria Nia and Ciltlali Hernandez from the collective in residence Matics, will take place. During six sessions, from January to June 2021, the group will explore some theoretical approaches around the body and digital culture, establishing a place from which to dialogue, think and activate proposals together. Each session will include the participation of an invited person involved in the search for the specific topic, who will propose the lines of the session.
In this session of the reading, thinking and body group, we are joined by philosopher Alejandra López Gabrielidis who invites us to read and share ideas that emanate from her Doctoral Thesis "Datification and Individuation" published in 2020 and that helps us to think about the idea of Connected Bodies and De-Individuation. After dialoguing, proposing connections with other materials such as artistic projects, texts, photographs, videos or any other format, in the last phase of the session we will focus on thinking from the body with a dynamic defined by the group.
The reading group Technological Body is an open and free group for which you only have to register for one or more sessions through the mail hola@maticsbarcelona.net. From here the readings for each session will be sent to the participants.
The meetings will take place in Hangar's Sala Ricson.
* This session was originally scheduled for March 22, but has been rescheduled for April 12.