Open Call for "Antes de la catástrofe/Rutas etnográficas 3302"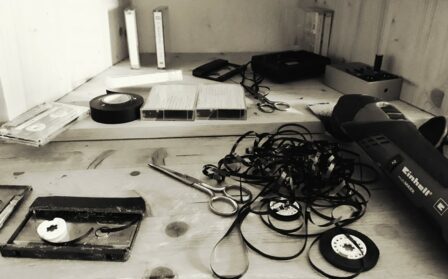 FULL WORKSHOP
Antes de la Catástrofe is the project Giulia Deval will be developing in the frame of the Hangar's International Resdiency. It's a workshop based on sound work/sound fiction game conceived for 5 voices/players interested in:
– contributing to the creation of a fake future ethnography;
– hacking/learning something about hacking sound devices and vintage electronics;
– games and rules;
– storytelling;
– sound experimentation;
– radio speech and podcasts.
During the workshop, Giulia Deval will share her research with the participants providing some tools for the creation of a sound work for 5 voices conceived as a game of fiction and based on the hacking of analog sound devices and found tapes.
Once the mechanism of the game has been constructed, the participants will be able to play in turn in the role of ethnographers of the future by constructing instantaneous narratives starting from some inputs.
The game will be performed live during Paratext, recorded and stored in the podcast format as a fake ethnographic congress of the year 3302.
The workshop will be held in English.
Schedule
11/25 – from 5 to 7.30 pm – Hangar Plató
11/26 – from 5 to 7.30 pm – Hangar Plató
11/27 – from 2.30 to 5 pm – Sala Ricson
11/27 – 7 pm – Live performance during Paratext
Applications
Please send an email to giuliadeval93(at)gmail.com with the subject "Antes de la catástrofe", specifying your name and your confirmation. Applications will be considered in order of arrival.
Deadline is November 20th.