En algún…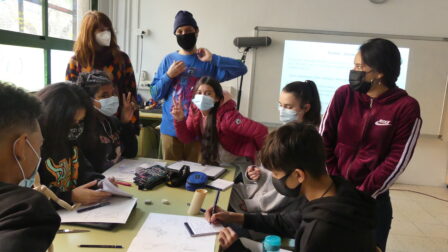 On June 10 Arnau Sala Sanz and the students of the Trinitat Nova Institute present in Hangar the installation En algún…, framed in the project En residència.
What is creative expression and what motivates it? During the last months Arnau and the students of the Trinitat Nova Institute have tried to understand together how it manifests itself, how it is channeled and what tools exist to execute it. The result of this exploration manifests itself in a map, a circuit that helps us to find ourselves, to understand our search from self-knowledge but also from interdependence. A space to circulate and immerse ourselves, where light, symbols and sound, give clues about what concerns us and defines us, but also how we relate and what space we inhabit within the community.
Practical information
Day: June 10
Time: 5 p.m.
Venue: Sala Ricson, Hangar
Language: Catalan/ Spanish
Free entrance. RSVP is required at entrades@lafluent.com.