M.A.M.I. by Lucía Egaña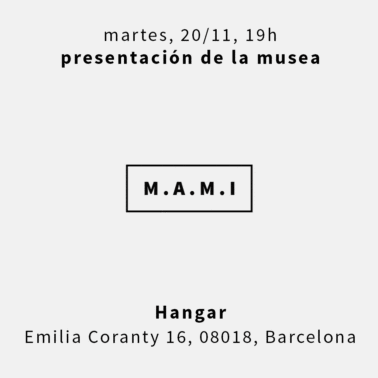 On 20 November Hangar hosts the presentation of the M.A.M.I. museum, a project by the artist in residence Lucía Egaña.
The M.A.M.I. museum is a self-instituting gesture, whose acronym can be interpreted in multiple ways, for example: Archaeological Museum of Immemorial Male chauvinism, Multi Intelligent Antimalechauvinism Museum, etc. This museum, directed by Lucía Egaña, is set in the distant future, approximately 3018 after the Christian era, a time when patriarchy no longer exists. It is therefore a museum of art and archaeology at the same time, which collects digital pieces from the time when women had to defend themselves against some patriarchal violence such as, for example, mansplaining, trolling, online harassment, the non-consensual sending of nudes, and so on. Fortunately, all these 21st century aggressions no longer exist. An invitation to know the current collection of the museum and some of its first curatorships. The presentation will be in charge of Joana Varon, promoter of the project and part of the Brazilian collective Coding Rights, and Lucía Egaña R. and possibly some of the curators of M.A.M.I.
Free entrance.