Lit x Shangai Comunity Radio by Kenneth Dow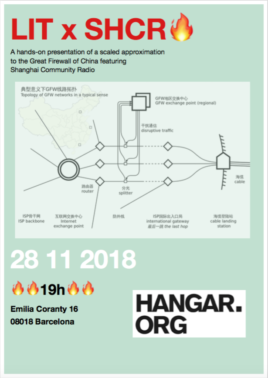 On November 28 at 7 p.m., the artist in residence Kenneth Dow gives a hands on presentation of LIT, a scaled approximation to the Great Firewall of China, featuring Shanghai Community Radio at Hangar.
We live in different systems holding different opinions on internet governance, mutually frowning upon each other. Europe, tax haven of international (American) tech companies, where freedom of speech flows, as long as there is no copyright infringement (or bare nipples) involved <<VERSUS>> China, notoriously suppressing undesired opinions, workers rights, and brings us the cheap tech, that runs the software of before mentioned Tech companies.
Censorship, a noun frequently associated with internet traffic monitoring / blocking, omits that replacing a call for political orthodoxy with a call for copyright protection may have similar symptoms, such as harsh limits to freedom of speech, or the free flow of ideas.
This difference in wording and reference, with shared ulterior motifs is best described, likening it to the transition from a disciplinary society to a society of control. The sovereigns direct demand for obedience is replaced with a general (common sense!!) call for respecting private (intellectual) property.
Two systems, utilizing the same tools keeping the respective sovereign in place. The capitalist, owner of the means of (intellectual) (re)production, and the Party running a national state, both unable to sustain an internet governance, that is functional and free, as the current state of the net shows us.
In reverse engineering the Chinese firewall, and scaling it down to a tangible object, consisting of code, semiconductors and Electromagnetic waves, Kenneth Dow hopes to spark a conversation around the conundrum of internet governance stated above. Networked computers are very sharp, yet very general tools. Framing them as weapons, walls etc. conceals their true nature and capability of making the contradictions of capitalist societies visible.
Shanghai Community Radio has been working on upholding the flow of information and ideas across the GFC, by inviting DJ's and producers to contribute to the stations Program, which takes place in the shape of club events usually accompanied by streamed content on bilibili a platform akin to You Tube.