Rubén Patiño participates in LOOPHOLE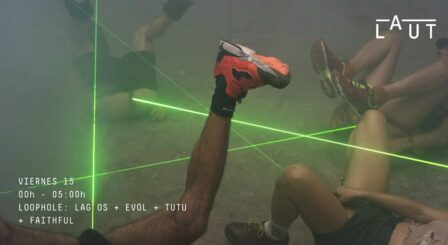 The artist in residence Rubén Patiño presents a set as Lag OS on Friday December 15th in Laut. LOOPHOLE pursues ambiguity: strategic gaps, narrow windows, abrupt slopes and hidden routes, seemingly impenetrable. Several artists come together to offer an unpredictable club night. LOOPHOLE aims to share and trace unexplored roads, almost like crossing the mountain with hardly any moon. The strange moment, in which the dance floor and the risk come together. Nocturnality and treachery … do not forget to bring your nuts, thermal blanket and front light.
Lag OS (Anòmia, ES)
Lag OS is the solo project of Rubén Patiño, half of the duo N.M.O. (Anòmia, Diagonal, The Death Of Rave, Where To Now?). Lag OS is located in a swampy area halfway between abstraction, liquid textures and the dance floor.
TUTU (ES)
To the feed and to the brain. Schizoclub.
The TUTU sessions are odes to life, between the purest adrenaline and the most genuine curiosity. Like windows that open to horizons as close as aliens, her sets run through the landscape with the same intensity that she lives other creative facets of her life. Beyond the possible enumeration of styles – ranging from bass house to cosmic trance, abstract grime, schizophrenic tribalism, acid techno and various experiments – Tutu on the plates can go from underground dance to more experimental sounds, she direct it towards the feet and the brain, to keep the head occupied and the sensations on the surface of the skin.
EVOL (Diagonal, ES)
Roc Jiménez de Cisneros is one half of EVOL along with Scottish Stephen Sharp. Their work together revolves around the distortion of time and the distortion of techno culture. Their works have been published by Editions Mego, Diagonal, Presto!?, Or ALKU, the label he co-directs since 1997.
Faithful (Anòmia,Prehistoric Silence ) U.S.A.
Chicago-based producer and deejay Faithful has been active since 2013, where he began as a deejay for an online radio broadcast called Rhizomatic Radio for RWD.FM, as well as playing local raves in Chicago. As he has grown musically and developed a practice of production, he has delved deeper into the depths of sonic exploration, which culminated in his second self-released album titled 'Dignity proxy, Unity narc'. The album represents a collection of incomplete sonic sketches that when listened through as a whole becomes a sum greater than their parts; in this way, his creative process harkens to the feeling generated in the time of the consumption of pirate radio broadcasts. In this experimentation with the sonic and its physical affects, Faithful finds new meanings with which to redefine notions of sonic cohesion, function, and form. He has several forthcoming releases for Prehistoric Silence (Italy) as well as Barcelona-based Anòmia.
Caption and photo credit of the cover image: Young Boy Dancing Group at The Curves in the World, Photo by David Stjernholm.
Tickets at www.laut.es