Sexwriting seminar: Texts for moaning pictures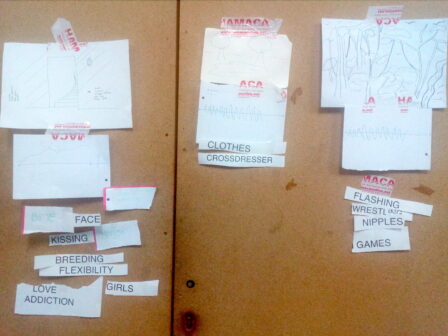 The workshop is given by: Ona Bros, Lucía Egaña and Francesc Ruiz (Instituto de Estudios del Porno)
The Instituto de Estudios del Porno (IEP) proposes a four-day workshop dedicated to the analysis and exploration of various audiovisual materials selected from the public call to form part of the Hammock catalogue, "Imagen pornográfica". This is a series of between five and ten videos that approach the pornographic image from different perspectives and techniques within the context of audiovisual artistic production.
Through these sessions, the aim is to collectively elaborate a series of critical analyses that put the selected audiovisual productions in tension and context. To this end, the Institute of Porn Studies will provide a series of critical, visual, political and conceptual tools so that workshop participants can develop crossovers and relationships between the videos. The idea is to be able to collectively and individually develop these analyses by understanding the importance of situated and embodied analysis of the materials. As the Institute is a space that is interested in the multiplicity of registers, the results of this workshop can be materialized in very different ways.
The training proposal ends with a public screening where, in addition to viewing the videos, some of the ideas developed within the framework of the workshop will be shared. Each participant will be able to develop a more extensive text after the training. This proposal will be part of the new cycle of screenings that inaugurates Hamaca: Videos a la fresca.
Session 1: July 2, 2020 from 5 pm to 8 pm
Presentation of the group.
Collective viewing of the videos.
Distribution of topics and tasks.
During the week the IEP will provide a series of written and visual materials to facilitate the analysis of the videos.
Session 2: July 9th 2020 from 5 pm to 8 pm
Sharing.
Crosses and concept maps.
Cartography of audiovisual materials.
During the week, the IEP will provide a series of questions that can help diagram new relationships.
Session 3: July 16, 2020 from 5 pm to 8 pm
Series of written, graphic and body exercises to give rise to a series of descriptive and analytical materials of the audiovisual body of analysis.
Session 4: July 23, 2020 from 8 pm to 11 pm (POSTPONED ACTIVITY. NEW DATE TO BE CONFIRMED)
Public viewing of all videos. The participants of the workshop will be in charge of a presentation of each one of the materials that can be elaborated in a very diverse way, from the reading of a brief text, to a performance or an image.
In this event, the diplomas will be given to the students who have completed the entire 2018-2019 academic year of the Institute of Porn Studies.
Practical aspects
Duration: 12 hours
Dates and times: Thursday 2, 9, 16 July from 5 pm to 8 pm and Friday 17 July from 8 pm h to 11 pm
Price: 10 euros
Seats: 12 max.
Place: Hangar. Emília Coranty, 16. Barcelona 08018
Registration here.
* The workshop will be carried out following all security measures.