Fleanòmia Musicircus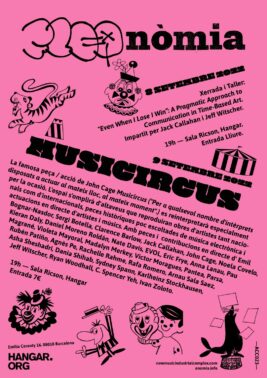 The platforms FLEA (USA) and Anòmia (Barcelona) -coordinated by artist in residence Arnau Sala Saez-, present Fleanòmia Musicircus, an activity divided in two days in which multi-channel pieces and live music from various national and international artists will be presented through the format proposed by John Cage in his piece Musicircus (1967); as well as talks and workshops given by Jack Callahan, Jeff Witscher and composer Clarence Barlow.
September 8 – Day 1: Lecture and workshop
American artists Jack Callahan and Jeff Witscher will present the talk "Even When I Lose I Win: A Pragmatic Approach to Communication in Time-Based Art", followed by a workshop using the ideas discussed during the talk. Everyone is encouraged to participate, whether or not they are musicians or artists.
September 9 – Day 2: Musicircus
John Cage's famous 1967 piece/action Musicircus ("For any number of performers willing to perform in the same place at the same time") will be reinterpreted especially for the occasion. The space will be filled with speakers playing pieces by both national and international artists, multi-channel recordings of rarely heard historical works of electronic music (John Cage, Karlheinz Stockhausen), as well as live performances.
With pieces and live performances by:
Emil Bognar-Nasdor, Clarence Barlow, Sergi Botella, Jack Callahan, John Cage, Noela Covelo, Kieran Daly, Nate Davis, Eric Frye, Evol, Anna Lanau, Pau Magrané, Violeta Mayoral, Madalyn Merkey, Victor Moragues, Daniel Moreno Roldán, Pantea, Parsa, Rubén Patiño, Agnès Pe, Rachelle Rahme, Rafa Romero, Arnau Sala Saez, Asha Sheshadri, Dania Shihab, Sydney Spann, Karlheinz Stockhausen, Jeff Witscher, Ryan Woodhall, C. Spencer Yeh, Ivan Zoloto.
Practical information
Lecture / Workshop: "Even When I Lose I Win": A Pragmatic Approach to Communication in Time-Based Art
Jack Callahan & Jeff Witscher
Day: Thursday, September 8, 2022
Time: 6 pm
Place: Sala Ricson, Hangar
Price: Free admission
Musicircus
Day: Friday, September 9th, 2022
Place: Sala Ricson, Hangar
Time: 7 pm
Price: 7 €