Creative Coding Tertulia #20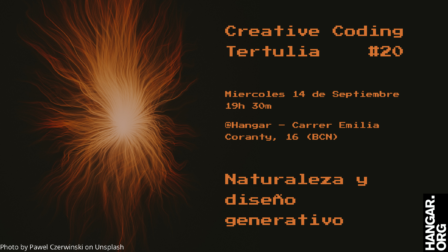 Creative Coding Barcelona presents Creative Coding Tertulia, an open conversation between artists, makers, designers, programmers, enthusiasts and anyone interested in the use of computational and technological skills for artistic expression. The event is free and open to everyone, regardless of age, background, gender or experience. It is not necessary to be a programmer to attend.
Creative Coding Barcelona will schedule a meetup every two months at Hangar continuing with the same pre-pandemic format:
– A specific theme will be chosen for each meetup.
– Everyone will be able to share projects, tools and other things about the topic by adding them here before the event (no need to create an account to edit the document).
– During the meeting all the references will be reviewed and discussed together.
– Then there will be an open mic: whoever wants will have the possibility to show their project without having to be related to the topic.
The theme of the next meeting is Nature and generative design.
Practical information
Day: September 14
Time: 7:30 pm
Venue: sala Plató
Languages: Spanish and English
Free admission