Floy Krouchi participates in Self-identified non-male artists making experimental electronic music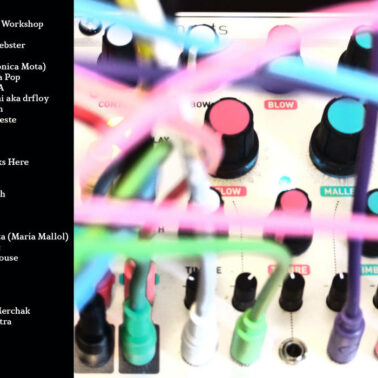 Music is a political space, a field traversed by problematics of power, an enormously useful sounding board for ideologies. Music doesn't only absorb and reflect ideologies. It supports and reproduces them. It participates fully to their construction." Susan Mc Clary — Feminist openings: music, gender, sexuality — The musical street, 2015
This mixtape of "self-identified non-male artists making experimental electronic music" brings together 34 female or non-binary artists of over 6 different nationalities. Launched in the fall of 2016 on social networks by the label Hylé Tapes, this call to contributions had a large international appeal, so much that the resulting mixtape can boast 3 tapes as well as a book-fanzine compiling the details of each project.
The success of this call and its dense end-product make it a unique political object. Unique because the works reflect the diversity of experimental music as a field; political because the voices that can be heard in it are often unheard or silenced. Those voices belong to women and non-binary people, whose common project is to experiment with sound, to explore its textures and combinations. This mixtape brings together artists who make music a space of radical exploration, a place where technologies, gender and practices come together to create singular works.
Far from promoting exclusion, this mixtape, on the contrary, calls for inclusion in order to remind us that music is a political space shaped by power dynamics and logics of domination. By creating a platform for female and non-binary artists, Hylé Tapes shows that it is time to take those problematics seriously. It is time to act and to take a stand as allies; this is a fundamental step on the path to lessening the marginalization faced by female and non-binary artists. By bringing them together in this way, Hylé Tapes also allows those artists to make their presence known. Finally, it brings to the forefront a large community for whom this mixtape is a real opportunity to create a network for sharing experiences and skills: indeed, today more than ever, "sisterhood is powerful".
https://hyletapes.bandcamp.com/album/self-identified-non-male-artists-making-experimental-electronic-music