Julia Varela exhibits in Japan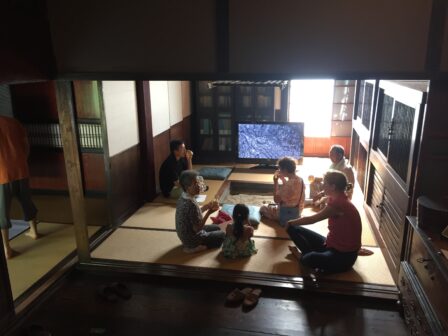 From 1 August to 2 September, the Yamakiwa Gallery in Japan will host the exhibition "By Indirections Find Directions Out", in which the artist in residence Julia Varela will participate. In it, the artist shows the piece Mehr Fantasie, which she has been working on during her residency in Hangar.
Curated by Paula Lopez Zambrano, "By Indirections Find Directions Out" seeks to point out temporal and geographical juxtapositions; experiences of anachronism, moments of synchronicity. It alludes to the changes and alterations of the messages that art contains, stores and transmits to us: how they travel and are transformed through time.
In the context of the mountainous Echigo-Tsumari region of Japan, the work of Julia Varela raises questions about electronic waste and its impact in the environment. Electronic waste such as plasma screens and iphones have been reduced into dust.They have been transformed into solid, rigid substance, similar to concrete or clay, able to be applied on the body. These irrelevant devises have transformed from being virtual lenses of reality into physical matter, into ashes. The ashes are displayed as sculpture in the gallery and incorporated in the body of the creatures the artist portraits in a video. Her work refers to the complex relationship of humans and technology, the intermittent border that exists in the physical body and the virtual world. It alludes to nature, to evolution but also to regression, and the transferals of energy that exist in the intangibility of the virtual world, in matter and in contemporary art.
* Photo
Julia Varela
Mehr Fantasie
Film 00:20:04 Super HD
Stereo,1/5
2017 – 2018