LiveCoding Hack, AI and MUSIC S+T+ARTS Festival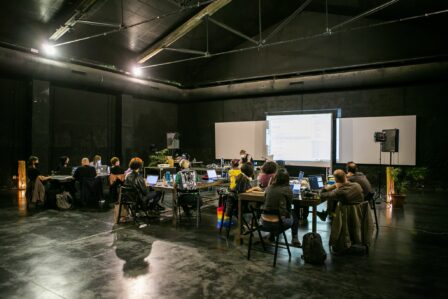 Within the framework of the AI and Music S+T+Arts Festival, the collective in residence TOPLAP Barcelona and Hack UPC are organising two hybrid hackathons (events where people meet to engage in collaborative computer programming sessions addressing specific challenges) that will take place at UPC and online on 23 and 24 October from 12:00 to 20:00 for the on-site working groups at the UPC, and 24 hours for the remote contributions.
One hackathon is dedicated to music education through the use of AI and the other hackathon to the use of AI in live coding.
Live coding is the practice of writing algorithms in real time for the creation of music, images and other content.
TOPLAP Barcelona collaborates with the hackathon LiveCodingHack presented by everis, a company of the NTT data group developed by the UPC in collaboration with Hangar, Centre for Research and Production of visual arts, in which AI will be explored within the practice of live coding, integrating the artistic and scientific communities of live coders.
This activity will take place between Saturday 23 October from 12:00h until Sunday 24 October at 11:59h.
Registration HERE