Magicians of tactile cinema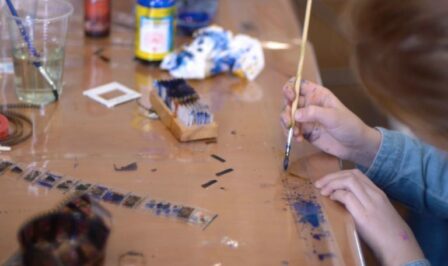 Hamaca's workshop An introduction to analogue film and film experimentation with Adriana Vila Guevara. For children from 6 to 12 years old.

What was and still is the magic of the moving image? Where exactly do the images that we see on the screen come from? Can we make films without a camera? Can we think of making a film by using paint, felt-tip pens, earth, insects, leaves and anything else we can think of? Can we touch and paint the sound of a film? Can we play with the projection by intervening with light, speed, textures and colours with our hands?
Based on these questions and many more on the origins of film and film experimentation, this workshop aims to introduce children to analogue film, activating their relationship with the visual arts, especially focusing on direct experience and manual intervention material on 16mm film, and also in its projection as a creative act.
The main objective of this workshop is to create a small collective experimental film made manually by children. A journey to the practice of the origins of experimental cinema, where children become cinematographic magicians, artists of celluloid and light.
Practical information
Date and time: Saturday 16 October at 11 a.m.
Location: Sala Ricson, Hangar. c/Emília Coranty, 16
Price: Free of charge
Registration here
Requirements to participate: No previous knowledge is required. All materials will be provided at the workshop. Children can come accompanied if they prefer.