Michael Lawton, Julia Gorostidi and Lara Fluxà in Swab's Ephemeral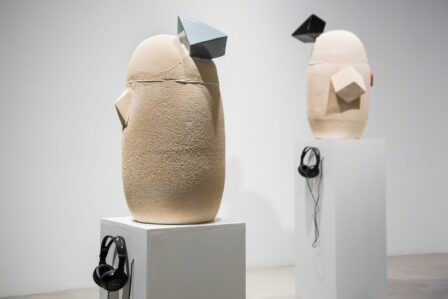 From September 27 to 30 the artists in residence Julia Gorostidi, Lara Fluxà and Michael Lawton participate in "Softbodies, not ahead but inside" in the second edition of the Ephemeral program presented by Swab. Curated by Caterina Almirall, Ephemeral collaborates with Hangar, Fabra i Coats and La Escocesa.
The objective of this program is to provide a space and give visibility to artistic processes that result in works that go beyond the limits of the gallery exhibition. Under the gaze of Almirall, these works that demand space, interaction and contact with the public come to Swab to make visible the trends that are shaking the contemporary art scene and that need a bridge between creation, exhibition, market and collecting.
As for the resident artists, Michael Lawton will present APATSS, a series of 100 paintings, all of the same size (All Paintings Are The Same Size) that, like a notebook, gather ideas, thoughts, inspirations and visions in images in an exercise of writing without words that can be visited during the days of the fair in the hall of the Hotel OD Barcelona.
At the fair, Julia Gorostidi will investigate the identity understood as the result of social structures and relations through a character she created for this project, a 12-month performative investigation in which she follows the character through the successive stages of development: Julia, Rosa, Angela… Eva. This one, born of the intention to create an identity that reflects the world around her, is a fluid but paradigmatic identity, which was built and transformed from the subjectivity of others.
Finally and also at the fair, Lara Fluxà will present A_nivellament, one of the first pieces in which the artist worked with borosilicate glass, with which we can understand the genealogy of his later work. With A_nivellaments he explores the relationship between stability and movement, glass combined with water proposes a game between transparency and opacity in the reading of the environment, and shows us how the search for stability in our environment inevitably entails movement, and therefore, risk and fragility.