Modular Day #5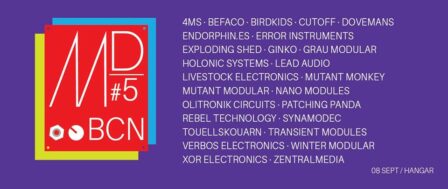 On September 7 and 8, Hangar hosts the fifth edition of Modular Day Barcelona, the festival of modular synthesizers organized by the collective in residency Befaco.
Modular Day is a meeting of Eurorack module manufacturers where they showcase their latest designs and offer them for construction in DIY workshops. Some of these manufacturers are Verbos Electronics, Winter Modular, XOR Electronics or Endorphin.es.
Modular Day also has a live concert programme, with two nights of dance music in Laut and Sala Vol (BeGgood) and a listening session in Hangar.
Program:
More info:
http://modulardaybarcelona.org/
https://www.facebook.com/ModulardayBCN/