Mostrar el gest, amb Susana Solano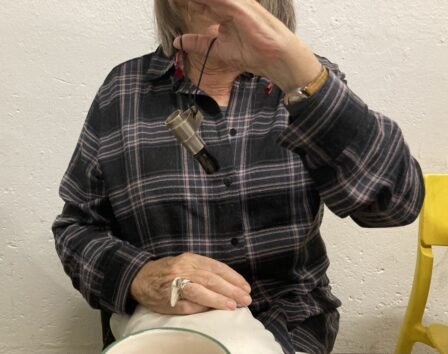 A leading protagonist of the renewal of Spanish sculpture in the eighties and with a recognized international projection, Susana Solano visits the resident artists to talk about the relationships she establishes with her sculptures and the different stages of her practice, from her first works, made in wood, which she soon abandoned to incorporate methods from the Catalan artisanal forging tradition, with a monumental character in which solid structures, architectural enclosures and open cages predominate.
In this session we focus on Susana's phenomenological claim of matter and the lyricism of her latest creations. We also talk about "minor" issues, such as the fascination she feels for the elaboration of costume jewelry pieces, her relationships with other artists of her generation, the moments when she gets stuck in the creative process or the problems of maintenance and storage of the sculptures of a lifetime dedicated to artistic production.
Practical Information
Date: November 17, 2022
Time: 5:30 p.m.
Space: studios
This activity is part of OLLA, Common Research Program.
Closed-door activity for resident artists.