PARATEXT nº26 with Maria Nørholm, Aleix Plademunt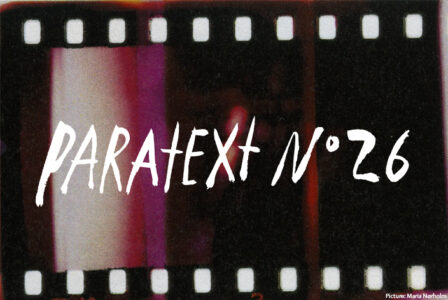 Paratext hides a monthly program of presentations by artists in residency in Hangar, always on Wednesday from 7 pm to 9.30 pm. Several artists present in various formats specific projects or parts of their works. The meetings are always opened based to the public in order to enable interaction with the artists themselves.
Next session will take place on Wednesday, May 23th at 7 pm in Hangar at Ricson space.
The following artists will present their work:
Maria explores the fusion of language and hierarchies in the expanded forms: the weaknesses and strengths, the differences and the similarities, the advantages and the disadvantages. This she does both solo and collectively for instance by playing the saxophone in different performance contexts, through collective readings or by using written words and video to investigate "the conversation".
Her interest in and research on "the correspondance" and "the collective" is also shown by facilitating workshops, hosting social events and other knowledge-sharing seminars.
He abandoned his studies of technical engineering at the UdG to devote himself to photography. In 2003 he graduated in photography at the CTIM of the UPC. During all these years he has not stopped working on personal photographic projects. Outstanding projects: Common Spaces (2005), Spectators (2006), Nothing (2007), Cult (2008), DubaiLand (2008), All (2009), Soil Movements (2010), Almost There (2013) Morishita (2017).
Today he has 5 books published:
· Almost There. 116 pp Co-published between MACK and Ca l'Isidret Edicions. 2013.
· A Passaggio. 1956 p. Ca l'Isidret Edicions. 2017.
· Morishita. 2016 p. Ca l'Isidret Edicions. January 2017.
· Ca l'Isidret. 12 pp. Ca l'Isidret Edicions. 2012.
· Movimientos de suelo. 192 pp. Ca l'Isidret Edicions. 2011.
In 2011, together with Roger Guaus and Juan Diego Valera, he created the publishing project Ca l'Isidret Edicions. Since 2003 he has had around twenty individual exhibitions and more than 40 collective exhibitions, including the exhibition Almost There at Le Bal (Paris) and IMA Gallery (Tokyo).