Paratext#32 with Toplap, TMTMTM and BeAnotherLab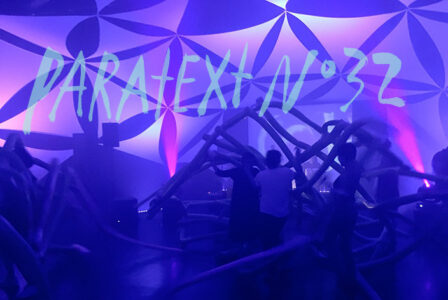 This name, Paratext, hides a monthly programme of presentations by the artists residents in Hangar of long and short duration, as well as the international residences, always on Wednesday, from 7 p.m. to 8:30 p.m. Various artists will be presenting in different formats, specific projects or parts of their works. The sessions are always open to the public in order to facilitate interaction with the artists themselves. In addition, each Paratext has an editor who then publishes his/her impressions of the presentation on this blog. On this occasion the editor will be Giuliana Racco.
The next Paratext session will take place on Wednesday December 19th, in the Sala Ricson of Hangar, at 7 p.m. Projects will be presented by:
TOPLAP Barcelona is a collective that practices and promotes live coding as a sound and visual creation technique, generating a technological appropriation through the use and development of free and open software focused on generating its own relationships and discourses.
TOPLAP Barcelona is a meeting place for the community of livecoders where to research, play live and develop projects around live coding.
The activities organized by the collective are: workshops, talks, monthly sessions of live coding from scratch, periodic meetings with the research community, as well as algoraves. It also provides advice on projects that use real-time code as an element in the arts, the digital humanities and science.
For TOPLAP live coding is a form of scenic art and a creativity technique focused on real-time writing of source code and the use of interactive programming, is a new direction in electronic music, is improvising and formalizing in public. The live coders expose and modify in real time the software generating music and / or images, while the manipulation of the code is projected to allow viewing process. Live coding works in all musical genres, and by the elements that compose it – art, science and technology – it also configures a social and political discourse.
The machine that makes the machine (TMTMTM) is a collective project of production, research and technological experimentation. It participates in the development of projects that use digital manufacturing or information technologies in their production, launches training and knowledge-sharing activities and organises meetings and activities around technological production processes from a critical and transdisciplinary perspective. As a resident collective of Hangar, it advises and collaborates in the production of artistic projects, attending to the needs of the context in which it operates.
As technological production is an eminently practical/material area of action, it is also interested in introducing discursive and theoretical activities and research, promoting the creation of spaces for reflection on technological change, inseparable from social change. In this sense, it is interested in studying and developing models and relationships between production technologies and free access to knowledge, sustainable production and mechanisms of control and exclusion. It attempts to rethink new organizational and cultural forms and the modification of work and consumption patterns through open and transdisciplinary processes.
BeAnotherLab is an artistic collective and interdisciplinary research group founded in Barcelona in 2012, which developed The Being Other Machine project (TMBA) .
This multisensory tool Creative Commons, is designed to promote tolerance and mutual respect through interventions in virtual reality (VR). By combining virtual reality, cognitive and performative art sciences, TMBA system offers users the ability to see themselves in a different body while offering the possibility of movement, interaction with space and narrative and the possibility of realistic tactile feedback.
The group is dedicated to compression, communication and expansion of subjective experiences; focusing its work in investigating the relationship between identity and empathy from an embodied perspective / "beefy" and the development of innovative applications in the art, scientific research, social, health and education, putting a strong emphasis on social innovation and impact on the lives of people. His work is based on a distributed model of action research and collaborative design methodologies. They hold partnerships in multiple countries, disciplines and institutions.
The group works at the intersection between art, science and technology, questioning the hierarchies between these different forms of knowledge. The group is committed to inventing new models of collaboration sustainability and not based on individuals, but rather on the idea of sharing and expanding identities and communities.