Polivalents #11: Sorç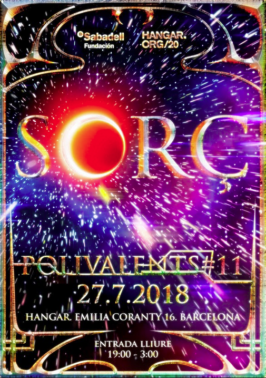 On 27 July, Hangar will host the 11th edition of the Sessions Polivalents, a set of annual, one-day activities that are managed by the centre's resident artists. Its aim is to open up channels of communication and debate through practical collaboration in any of its formats: conferences, joint actions, parallel activities, etc. In this sense, the activities will be produced by the resident artists themselves and by other creators chosen by them.
This new edition will revolve around the Sorç concept.
Sorç lets us see what we usually don't see, the shapes, processes and porosities that are in things, as well as the image of the temporal darkness that will show us the total eclipse that will take place during the night of this day.
During these Sessions Polivalents we will illuminate multiple micro-spaces, decentralized fragments of organic fluidity, through which we will be able to open our knowledge as a way to create a common experience.
Something that goes beyond the technological or machinic, something related to our ways of doing and the quotidian: our bodies, imaginaries and ways of surviving.
An ideal scenario to share what we want and want to make possible, as the open source philosophy points out.
Schedule
Square
19:00 VIOLETA MAYORAL
ROGER SERRET's installation
Ricson Hall
20:30 ARIADNA PARREU, CRISTIAN HERRERA + PLOM
21:15 JAN MOSS
22:10 AGNES PE
23:20 RUI HO
01:15 ROC JIMÉNEZ DE CISNEROS
Instalación de TMTMTM
Multipurpose Hall
KOMANDO BRUJERIA (Activity with prior registration on the day of the event)
Pecera Ricson
ANNA IRINA RUSSELL
Guest artists:
Ariadna Parreu , Cristian Herrera + PLOM / Jan Moss / Agnes Pe / Rui Ho / Roc Jiménez De Cisneros / TMTMTMT /  Roger Serret i Ricou / Anna Irina Russell / Violeta Mayoral / Komando Brujería
Resident artists:
Lucía Egaña Rojas / Rubén Patiño / Francisco Navarrete Sitja / Mercedes Mangrané / Lara Fluxà / Paula Bruna / Sol Prado / Y€$Si Perse / Julia Gorostidi / Alba Mayol Curci / David Ortiz / Michael Lawton / Claudio Correa / Jan Monclús / Helena Vinent / Julia Varela / Victoria Deblassie / Connor Maley / Mostafa Saifi Rahmouni / Rae Yuping Hsu.