"Take me home" by Simon Pfeffel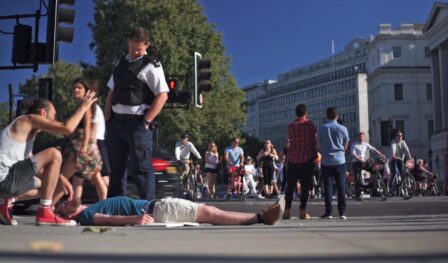 In the frame of the Baden-Württemberg – Catalunya exchange program, artist in residence Simon Pfeffel will do different performances at different public places in Barcelona during his residence in Hangar. Performances will take place on:
Saturday, October 5, 2 p.m. (Solo) First place: Carrer Marroc/Espronceda. Second place (2:50 p.m.) will be announced via phone call or sms: 0049 176 72.508.243.
Wednesday, October 16, 2 p.m. (Group) Place: Arc de Triomf. Passeig Lluís Companys.
Sunday, October 20, 5 p.m. (Group) Avinguda Diagonal/Carrer de la Llacuna.
Tuesday, October 22, 6:30 p.m. (Solo) Carrer Marroc/Espronceda.
Simon proposes solo and group performances, where 5-15 people shall take part.
In solo performances, Simon Pfeffel creates situations in which development and goal are not foreseeable from the outset because acting decisions are not made by him alone. His performances are the starting point of human relations, during which he becomes more and more passive and little by little he gives protagonism to the receivers. The sense of responsibility of these people evolves as the relationship of trust develops. The resilience of this trust is tested through the duration of their actions.
On the other hand, group performances are very psychological. They create dialogues with strangers in public space, in a verbal and a nonverbal way. They start easy but then, they become very complex as a consequence of its duration. These performances often become "infectious", and people around the actors start doing same actions without knowing the context.
If you shall be interested in taking part in the group performances or if you want to know where these performances will take place, send an e-mail to simon.pfeffel(at)gmx.de or call or text to 0049 176 72508243.
Photo: Li-Lian Ahlskog Hou, VG-Bildkunst, Galerie Burster (Berlin)